"I have an AT&T locked phone, and now I want to switch to another network service since the package is cheaper, but when I insert the new SIM card into my phone, it says no SIM card installed, how to unlock AT&T phone and change carrier?"

People prefer to purchase smartphone from carrier, partly because they market that you can get a smartphone for free or with lower price. The cost is that you have to be locked to the network for two years or longer. Want to change your AT&T locked phone to another network provider? You can find all information necessary in this tutorial.
Part 1

: AT&T phone unlocking checklist

When you prepare to unlock AT&T phone, read the checklist first:

1. Your phone must be SIM unlock capable.

2. It must be fully paid off through an equipment installment program or a final lump sum payment at the end of a Flex lease.

3. Your smartphone must be active on the AT&T network for at least 50 days.

4. Your account should be in good condition. If it has been on blacklist or stolen, you cannot unlock it.

If you meet all the conditions above, unlocking AT&T phone is quite easy since AT&T provide online unlocking service.
Part 2

: How to unlock AT&T phone

Generally speaking, there are two ways to unlock AT&T phone, make a request to AT&T or try a third party online service. The former has requirements but is more secure. The latter does not have restrictions but you have to upload some information, and it cannot be guaranteed that the third party service works on your phone.
Way 1: Unlock AT&T phone by carrier
Before unlock AT&T phone by making a request through AT&T website, you should prepare the information below:
1. The phone number that you got from the AT&T contract came with your phone.
2. The IMEI or MEID number of your device. To get it, turn on your phone, open the Phone app, dial *#06# to display the IMEI number. On iPhone, you can get IMEI code in Settings-> General-> About. It is usually a 14 or 15-digit number. Sometimes, you can find it on your SIM card tray or rear case of your phone.
3. The account information, like account number and password, your first name and last name, your social security number, etc.
4. The email address that you used to register the account. AT&T will send the confirmation email to the address too.
5. The type of your contract and the type of unlock, like domestic unlock or international unlock.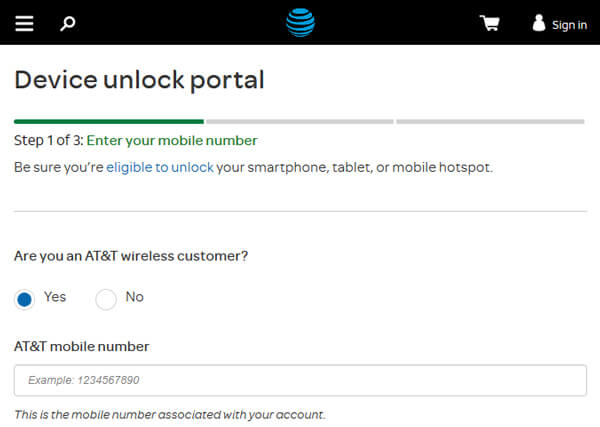 Next, follow the steps below to unlock AT&T phone quickly and simply
Step 1: Power on your computer, start a browser and access www.att.com/deviceunlock. This is AT&T's device unlock request website.
Step 2: Fill out the form according to your situations and information, and read and agree to the eligibility requirements, when completing, click on Submit or something similar to submit the request.
Step 3: When you receive the confirmation email, open it and click on the link within 24 hours to confirm unlocking AT&T phone request. Otherwise the request will be cancelled.
Step 4: Two business days later, you can get the respond from AT&T and the result of your request.
Way 2: Unlock AT&T phone with online service
If your contract does not terminate or you do not meet other checklist, third party online unlocker services are another way to unlock AT&T phone. There are many online services announced that they can unlock Android phone and iPhone, but only a few can do it effectively. We use DoctorSIM as the example, because it promises to refund if it fails on unlocking AT&T phone.

Step 1: Access DoctorSIM website in any browser. Click and expand the Unlock Your Phone menu at top ribbon and select your manufacturer, like Samsung, and then click on Unlock Your Phone button.
Step 2: Fill out the request form. It requires your country, network provider, and an active email address. Select a plan and payment method, and then pay the bill.
DoctorSIM offers three unlocking services, standard, premium and premium express. You can pick up a proper one based on your requirements.
Step 3: When you receive the unlocking code by email, turn on your phone and follow the instructions in the email to unlock AT&T phone immediately.
Step 4: Finally, reboot your phone and insert a SIM card from another carrier to check if unlocking is successful.
Part 3

: Questions and answers for unlocking AT&T phone

Around unlocking AT&T phone, there are some questions still.

Question 1: What is unlocking AT&T phone?

Answer: Unlocking a smartphone means to break the restriction of carrier lock.
Then you can use any network provider as you wish.

Question 2: Why I should unlock my phone?

Answer: There are several reasons that people want to unlock AT&T phone.
Firstly, only after carrier unlocking, you can switch to another network provider who offers more cost-effective packages. Plus, most carriers offer service domestic. If users need to go abroad, they have to do carrier unlocking.

Question 3: Is unlock AT&T phone illegal?

Answer: If your contract terminates, you can unlock your phone by contacting your carrier. That is completely legal. And network providers introduced locks to prevent you from changing carrier, partly because there is no law said you cannot change network. So, it is legal to unlock smartphone.

Question 4: Does it cost anything to unlock my phone?

Answer: The answers are different depending on which method you use. If you make a request to your carrier, it is totally free of charge. The third party online unlock services cost dozens up to a hundred dollars.

Don't Miss: How to unlock an iPhone with broken screen
Conclusion
In this tutorial, we have talked about how to unlock AT&T phone effectively. First of all, prepare all information necessary for the unlock procedure. Then pick up the proper carrier unlocking method based on your situations.
AT&T provides online unlocking service, so you can submit a request without going to a store. If it is invalid, you have to look for a reputable online unlocking service, like DoctorSIM. If you have more questions related to unlock unlock AT&T phone, feel free to leave messages below this post.