This guide will talk about one of the best MDM solutions, Verizon MDM or Verizon Mobile Device Management. Today, cybersecurity and remote access have become the new normal. Therefore, it is significant to view and manage all devices across an organization remotely. These are the core features of Verizon MDM solution. Of course. It means that your device and your behaviors are being monitored. It makes sense that you want to remove Verizon MDM on your handset.

Verizon MDM Removal
Part 1. What Is Verizon MDM?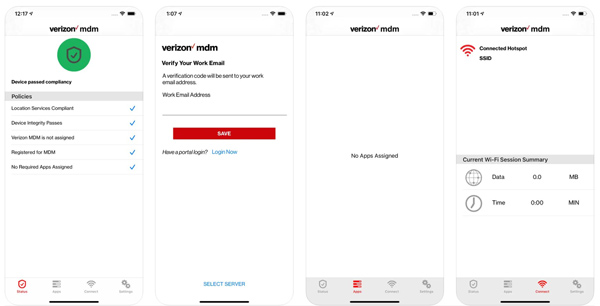 As mentioned previously, Verizon MDM is the mobile device management released by Verizon. As a versatile solution, it enables IT administrators to manage, track, and control the mobile devices that are connecting to their networks.

Main Features of Verizon MDM Solution
Control security policies, access to apps and websites, and mobile hotspots with a single portal.
Lock stolen mobile devices and wipe the entire devices to prevent unauthorized access.
Manage mobile devices remotely without additional hardware or software investments.
Take advantage of network location with compatible iOS and Android devices.
Diagnose device data near real-time.
Support to set up admin portal and enroll devices with white glove onboarding.
Easy to set up Verizon MDM on both iPhone and Android.
The cost of Verizon MDM differs depending on the number of devices you have and the size. You can contact Verizon support to find this out based on your situation.
Part 2. How to Remove Verizon MDM without a Password
Once you install Verizon MDM on your mobile device, it cannot be removed without the password. If you still remember your login password, go to the Settings app, tap General, choose VPN & Device Management, press MDM Profile, and hit Remove Management. Then enter your password.
If you forgot your password, you can still remove Verizon MDM with Apeaksoft iOS Unlocker. It helps you get rid of any MDM restrictions on your iPhone or iPad without a password using advanced technology.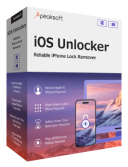 4,000,000+ Downloads
1. Completely remove Verizon MDM from iOS devices effortlessly.
2. Don't interrupt data on your device during MDM removal.
3. Don't require your password or extra software.
4. Support almost all iPhones and iPad models.
Here are the steps to remove Verizon MDM without a password:
Step 1Connect to your iPhone
Install the best Verizon MDM removal tool on your PC and launch it. There is another version for Mac users. Choose the Remove MDM mode in the home interface. Next, connect your iPhone or iPad to the same machine with a Lightning cable.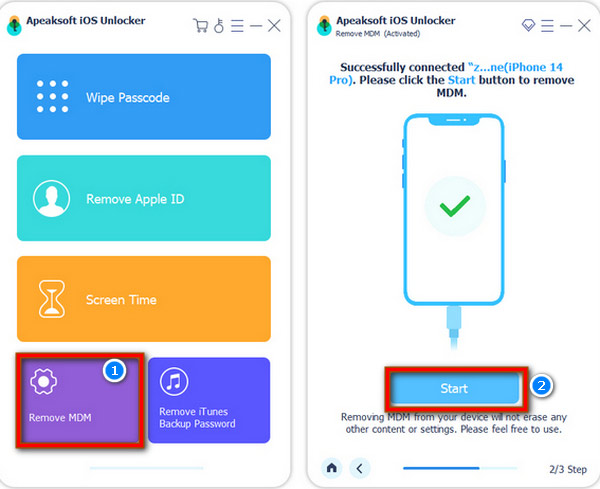 Step 2Remove Verizon MDM
Once the tool recognizes your device, click the Start button. Then you may face two situations.
Situation 1: If you have turned off Find My, Find My iPhone, or Find My iPad on your handset, the software will work immediately. A few seconds later, you will be presented with the success screen. Click OK to confirm the action and disconnect your iOS device.
Situation 2: If you have turned on Find My on your handset, you will get the on-screen prompt. Follow it to disable this feature on your iOS devices. Then the Verizon MDM removal will initiate automatically. During the process, you must keep your handset connected to the computer.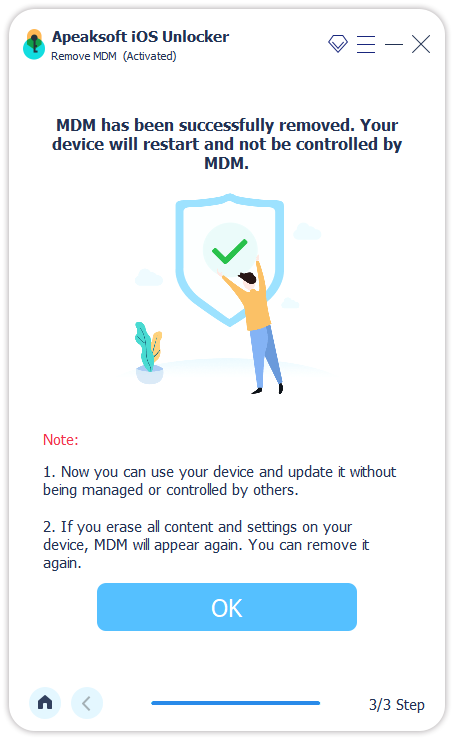 Note: After MDM removal, you will find all your data, files, apps, and settings remain on your iOS device in the original condition.
Further Reading:
Part 3. FAQs about Verizon MDM Removal
Can Verizon MDM Spy on You?
It reads your text messages and other text-based data that has been sent and received on your mobile device that is enrolled with Verizon MDM. In other words, IT employees are able to see who is sending you messages, but they cannot get the content.
Is my Verizon access free?
If you just wish to use the features related to security and management, Verizon MDM is free. You just need to download the app on your mobile device from the App Store or Google Play Store. However, the advanced features are only available in business plans.
Can I remove a device from my Verizon MDM?
Yes, you can remove any mobile devices from a Verizon MDM portal if you have an administrator account. You can access the portal with the admin account and password, and delete a device if it no longer belongs to your organization.
Conclusion
This guide has discussed what is Verizon MDM, and how to remove Verizon MDM from your iOS device effortlessly. Every coin has two sides, and so does MDM. It protects your business data and device, but MDM restricts your handset usage at the same time. Therefore, you may want to get rid of the control. Fortunately, Apeaksoft iOS Unlocker can do the job without a password. More questions? Please feel free to contact us by leaving a message below.