Nowadays, companies and organizations will be equipped with multiple devices to facilitate their members to carry out more work. Administrators will choose to use the MDM restriction to safeguard the security of the devices and manage them in a unified way. However, MDM may cause some device functions to not work properly, so it is necessary to remove the MDM profile.
However, you probably find no option to remove the MDM profile in this process. Facing this problem, you may feel confused. To help you solve the problem smoothly, we will list several reasons for the absence of options and 3 solutions that can be applied. Detailed steps will accompany each method if you can't operate it properly. Now, read on and explore with us.

What to Do If There Is No Option to Remove MDM Profile
Part 1. Possible Reasons for No Option to Remove MDM Profile
If your device administrator has set the MDM to be non-removable, you can't remove the MDM profile, which is the most immediate reason. In this case, you can seek help from the administrator or with the help of special tools.
The second scenario is that your MDM profile is part of the iCloud backup. So you can't find it locally. If you reset your device and restore your data via iCloud backup, the MDM profile will be reinstalled on your device.
Part 2. What to Do If There Is No Option to Remove MDM Profile
Method 1. Ask the Administrator for Permission
The administrator can remotely set no option to remove the MDM profile on your iPhone or iPad. So, the most direct way to solve this problem is to find your administrator and ask him to change your device's settings so that you can remove MDM from your device. This operation is fairly simple for administrators. The only problem is that you may have trouble contacting the device administrator promptly.
Method 2. Use the Best Tool to Remove the MDM Profile Efficiently
If you cannot seek permission from the administrator for the time being, you can try using the top unlock tool, Apeaksoft iOS Unlocker. It will be your best assistance when there is no option to remove the MDM profile on your device. In addition to removing MDM restrictions from your device without losing your data, it can also be used to regain control of your phone if you forget your Apple ID or lock screen passcode.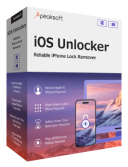 4,000,000+ Downloads
Wipe the old Apple ID and password and let you create a new one.
Recover and remove the restriction password to turn off Screen Time.
Remove the MDM from your device quickly and safely without data loss.
Clear the iTunes backup password from your iPhone/iPad with one click.
Here are the steps for operating Apeaksoft iOS Unlocker.
Step 1 Download and install Apeaksoft iOS Unlocker on your computer. Open it, and connect your mobile device to the computer via a USB cable.
Step 2 Choose Remove MDM on the interface. After successfully connecting your device to the computer, click Start.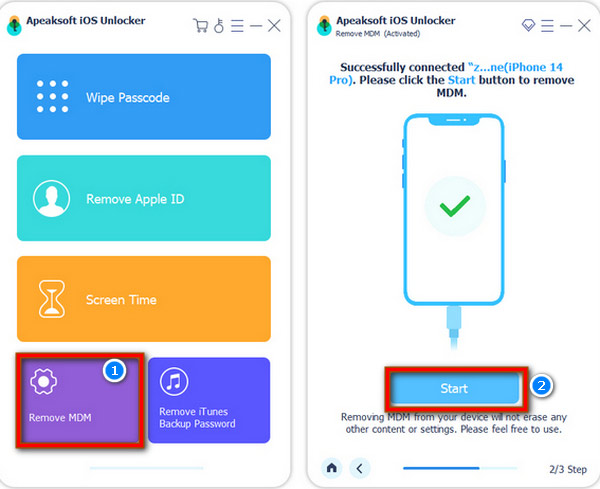 Tips :
1. If you have Find My turned on your device, follow the prompts on the screen to turn it off first.
2. If Find My is disabled on your device, the program will automatically remove MDM from your device.
3. After finishing the MDM removal process, your device will restart automatically. Then you can use it normally.
Method 3. Jailbreak Your Device to Remove MDM Profile
Jailbreaking your device can also successfully remove MDM restrictions. However, this method is a bit more complicated. Your device will no longer be protected after jailbreaking, so viruses and malware may endanger you.
Below, we will show you how to jailbreak your iPhone with the help of Checkra1n.
First, you must ensure that your device is running iOS 12.3 to iOS 14.8.
Step 1 Download and install Checkra1n and Rufus on your computer.
Step 2 Prepare a USB flash drive with at least 2GB of memory space. Then, insert it into your computer. Open Rufus and click SELECT to search for the checkn1x file. Select it and click START to burn the IOS file to your USB flash drive.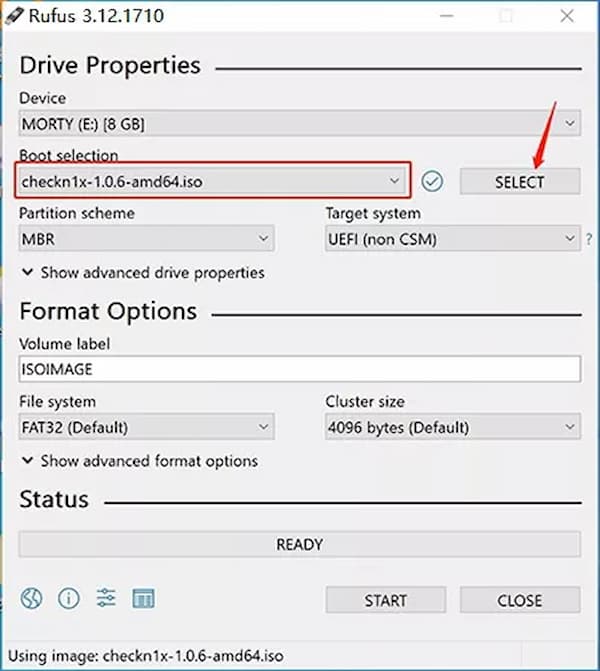 Step 3 After finishing the burning process, click CLOSE. Unplug and insert your USB flash drive into the computer to ensure that it can be recognized.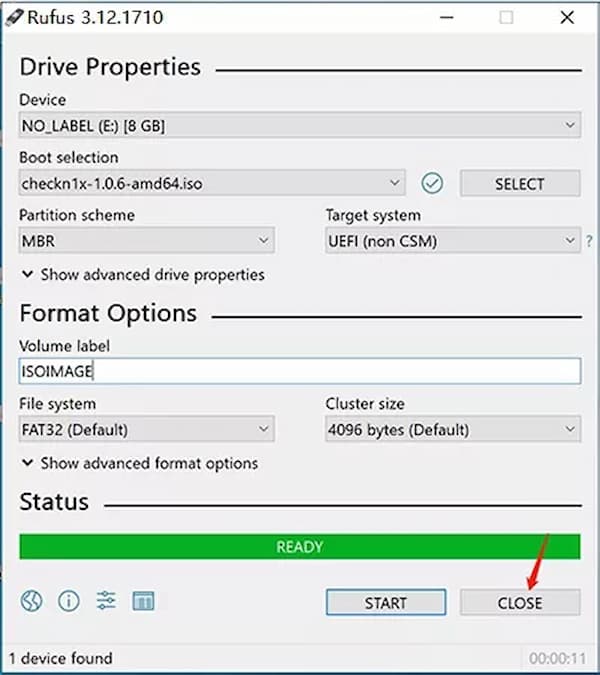 Step 4 Restart your computer and press Esc on the keyboard before the brand logo appears on the screen. Your computer will enter the BIOS mode, find your USB drive, and choose it.
Step 5 You will enter the Welcome to checkn1x window. Press Alt + F2, and connect your device to the computer with a USB cable.
Step 6 Select Options with the arrow key on your keyboard, and press Enter. This way, the jailbreaking tool setting screen will be launched.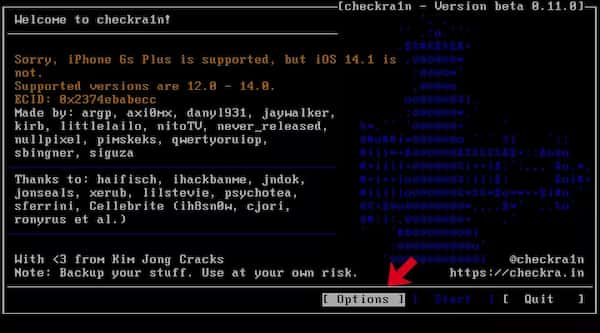 Step 7 Choose Allow Untested iOS/iPadOS/tvOS versions >Skip A11 BPR check >Back.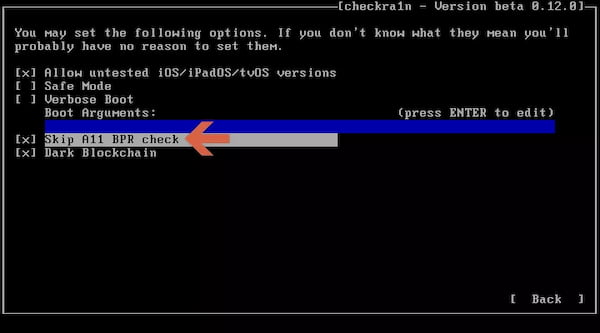 Step 8 Press the arrow and Enter key on the keyboard to choose Start. Then, choose Next to let your device enter the DFU mode.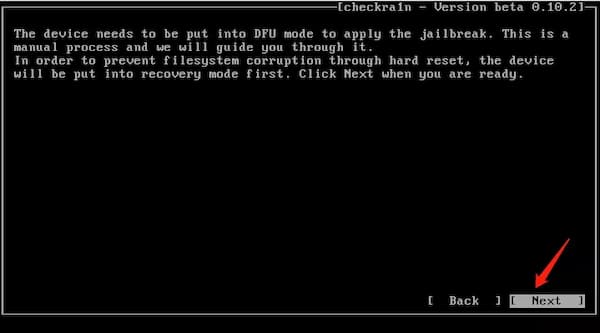 Step 9 Now, your iPhone will be jailbroken automatically. Choose Done and unplug your USB drive and mobile device.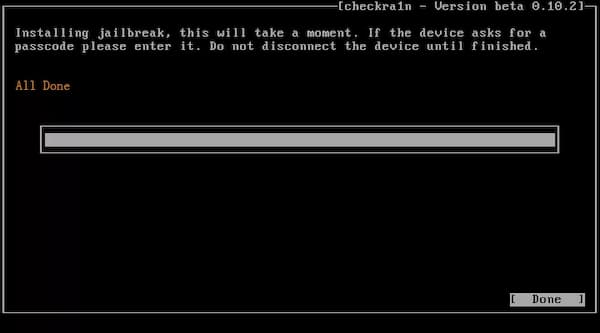 Part 3. FAQs About Removing MDM Profile
What is an MDM profile?
The MDM function provides remote control of the mobile device. You can configure your device wirelessly by sending profiles and commands to it. With profiles, you can apply to update software, adjust settings, remotely remove the device, lock the device, etc.
Can MDM be permanently deleted?
Sure. You can try to completely free your device from MDM by removing the MDM profile. Go to Settings >General >Device Management. Then find [MDM profile] and choose Remove >Management. If you cannot remove your MDM profile, try using a third-party tool such as Apeaksoft iOS Unlocker to help you.
What happens if you remove the management profile from your iPhone?
If you remove the management profile from your iPhone, then your device will no longer be under the remote control of a specific administrator or organization. You can use all the features on your device and perform any action.
Can Apple remove MDM from your iPhone?
Currently, Apple does not have this feature. To remove remote management from your iPhone, ask your administrator for permission. Alternatively, you can reset your device or seek help from a professional tool.
Will factory reset remove MDM from the iPhone?
It will, and it's a viable approach. Factory reset will remove all information on your device, including user accounts, data, personalized settings, MDM profiles, etc. This means that your device can be freed from MDM restrictions, but all your files will also be emptied.
Conclusion
In this article, we start by analyzing in detail the possible reasons for the condition of no option to remove the MDM profile. After getting to the root of the problem, we offer you 3 highly practical solutions, including Apeaksoft iOS Unlocker, the best MDM removal tool. After browsing through the general introduction and steps, you can decide which one to apply. If you still have questions about this issue, please comment. We will be happy to help you fix issues.