- "I know Fido will unlock iPhone charging $50. But is there any other reliable methods to unlock iPhone 6 from Fido in cheaper way?"

Getting tired of Fido Canada carrier and looking for the good iPhone unlock service? You can get the best methods to unlock iPhone from Fido Canada by IMEI easily through this article. Some people prefer to get Fido Canada iPhone unlock from Fido site directly holding the opinion that it is safer than other choices. However, you would cost more time and additional $50 fees to unlock a Fico Canada iPhone. To simplify Fido iPhone unlocking process and get unlocked iPhone as soon as possible, and you can refer to following methods to get step-by-step Fido Canada iPhone Unlock service.
Part 1

. Unlock Fido Canada iPhone with Fastest Unlock Delivery

It is safe to use OfficialiPhoneUnlock to deal with iPhone locked to Fido Canada carrier. You can get SIM-free iPhone after the factory IMEI unlock without jailbreak. All basebands and firmware are supported including the latest iPhone X/8/8 Plus. So there are no limitations of unlocking iOS device about versions. OfficialiPhoneUnlock can Fido Canada iPhone Unlock permanently, and then you can still update with iTunes safely. In another word, it offers official iPhone Unlock service that can unlock iPhone from Fido Canada network without other bad influences.

Whether you unlock second-hand Fido Canada iPhone to change the new SIM card, or you need to join other International networks for travelling abroad, OfficialiPhoneUnlock can unlock Fido Canada iPhone over the air with instant carrier checking.
How to Unlock iPhone from Fido Canada with IMEI Codes
Step 1. Enter iPhone IMEI Code
Open OfficialiPhoneUnlock website and enter "Unlock Fido Canada iPhone" page. Select which your iPhone model is from iPhone X/8/8 Plus/7/7 Plus/SE/6s/ 6s Plus/6/6 Plus/5c/5s/4S/4/3GS and iPad. You will see the pop-up blank asking for IMEI code. Fill in your Fido Canada IMEI below. (You can press #06# in the keypad to get the IMEI number of your iPhone. Or you can choose "Settings" > "General" > "About" to get the 15-digit IMEI number.)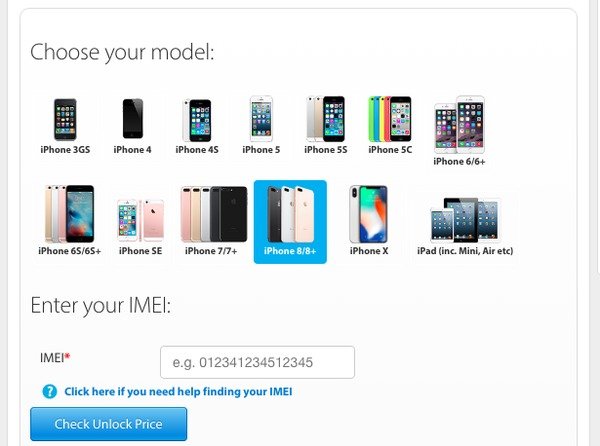 Step 2. Place Fido Canada iPhone unlock order
Click "Check Unlock Price" to see how much you need to pay for unlocking iPhone from Fido Canada carrier. Different iPhone models will be charged with different prices, and the starting price is £35.00. You can also see the timeframe displayed for the unlock of Fido Canada iPhone. The typical timeframe is 1 to 3 days. Do not forget to enter your email address that receives the Fido Canada iPhone unlock notification.
Step 3. Unlock iPhone from Fido Canada carrier
OficialiPhoneUnlock offers instant carrier checking and hourly unlock status updating that make sure you can get unlocked iPhone with the fastest unlock delivery. Once your iPhone is marked as unlocked from Fido Canada, you can get the email immediately. It contains easy-to-use instructions of how to unlock your iPhone from Fido Canada by plugging iPhone to computer and then you can get iPhone unlocked message from iTunes. It will be easier if you have the OfficialiPhoneUnlock service on iPhone already or you just connect the Wi-Fi network. The Fido Canada iPhone unlock will be applied automatically.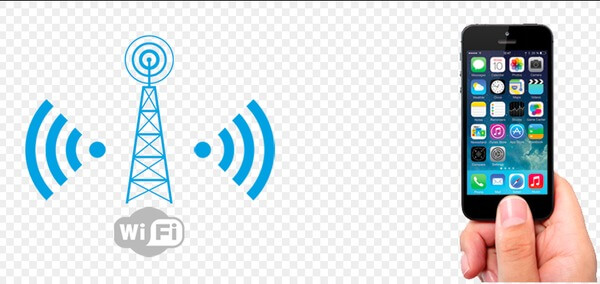 Your iPhone will stay SIM-free status permanently after official unlocking service. If you still have doubts of its capability of, you can check reviews of Fido Canada Official iPhone Unlock below.
Part 2

. Alternative Fido Canada iPhone Unlock Sites

There are also other Fido Canada iPhone unlocker services you can turn to. And you can get Fido unlock codes to factory unlock any Fido iPhone with money back guarantees.
MyimeiUnlock
There is no need to jailbreak iPhone to unlock from Fido Canada carrier. But you can also get Fido Canada iPhone unlock without losing jailbreak with MyimeiUnlock.
Step 1. Complete Fido Canada iPhone unlock
Open MyimeiUnlock website and locate "Unlock Fido iPhone Canada" under "Canada Carriers" list. Select "Canada Fido" under "iPhone Carrier", and select "iPhone Model" up to iPhone 8 Plus. Enter iPhone IMEI number.
Step 2. Wait for the iPhone unlocked email
Press "Add to cart" and pay $29.00. Wait few hours up to few days to receive the confirmation email informed your iPhone has been unlocked from Fido Canada carrier. Update your iPhone to the latest iOS version with iTunes and then get the message of iPhone unlock successfully.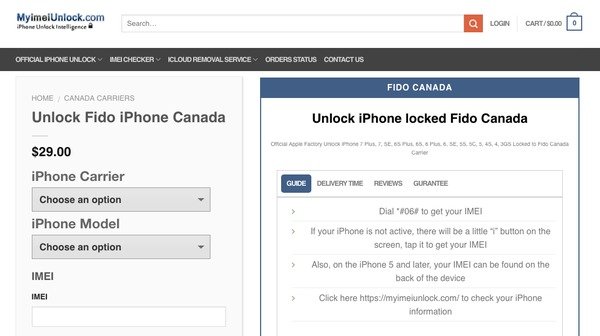 Cellunlocker
Cellunlocker promise that you can watch exactly the Fido Canada iPhone unlock process in detail. The processing time is 1 business day. And you can unlock Apple iPhone up to iPhone 7 Plus from Fido Canada carrier at present.
Step 1. Check your unlock availability
Scroll down to get the window of checking iPhone unlock status for free. Choose from "Select your iPhone model" and "Network the iPhone is locked to" drop-down menu. Enter your iPhone IMEI number and then hit "Look for Code" button. Later, just place the order.
Step 2. Unlock a Fido Canada iPhone
You will receive the email from Cellunlocker announcing "Activated" or "Unlocked". After that, use USB cable to connect iPhone to computer. After iTunes has detected your iPhone, disconnect iPhone and then reconnect it again after 10 seconds.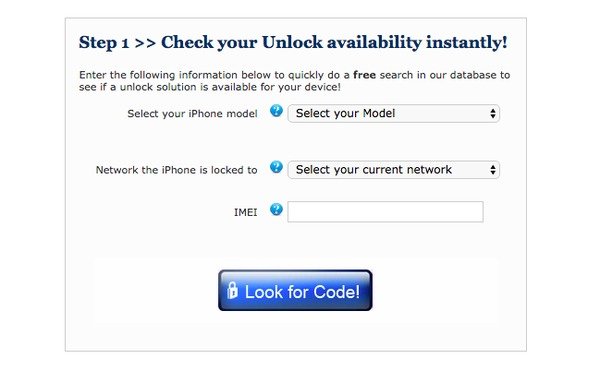 Finally, you will receive the message from iTunes saying "Congratulations, your iPhone has been unlocked". It means you can get unlocked iPhone and change any carrier freely.
Summary
The above three methods of Fido Canada iPhone unlock are all safe to use and easy to operate with. You can compare and choose the best iPhone unlocker that can factory unlock your iPhone perfectly. There are numerous users who have unlocked iPhone from Fido Canada carrier successfully using above iPhone unlock services already. So just feel free to unlock Fido Canada iPhone without jailbreak.