- "I have an Alcatel One Touch, no root. When I try to take a screenshot, it says couldn't save screenshot…"
- "How do I screenshot on my Alcatel One Touch Idol?"
There are many similar questions about how to screenshot on Alcatel One Touch and other models.
Moreover, some people complain about Alcatel One Touch screenshot problems due to various reasons.
Based on different demands, this article shows the solutions to screenshot on Alcatel phone. You can learn how to take a screenshot on Alcatel One Touch step by step here. What's more, there are also 7 alternative screenshot applications you can get.
Part 1

: How to Screenshot Alcatel with Default Method

Yes, you can press the certain key combinations to screenshot Alcatel. This article will take Alcatel One Touch as an example. It is quite easy to screenshot on your Alcatel smart phone. Just read and follow.

Step 1: Hold and press "Power" and "Volume Down" keys at the same time.

Step 2: When you see a white flash on the screen, it indicates that a One Touch screenshot is taken.

Step 3: Open "Gallery" app to see your Alcatel One Touch screenshot.
Well, the place of "Power" button may change. You can find "Power" on the top or right side of your Alcatel device.
Sadly, there is no direct icon for users to edit or share the screenshot.
So you need to open other photo editor apps to apply simply photo effects.
Part 2

: 7 Methods to Screenshot Alcatel

Because of the Alcatel screenshot limitations, you can use other apps to screen capture Alcatel with better functions. The followings are good 7 choices for you to screenshot on Alcatel tablet and other models.
1. AZ Screen Recorder
AZ Screen Recorder is not only a screen video recorder, but also a screen capture app. Its simple UI makes it easy to record and snapshot on Alcatel and other smart phones.
Pros:
Allow to pause and resume the screen recording process on Alcatel devices.
Draw on screen and apply other effects on your screenshot.
No watermark, no root, no time limit, ad free.
Cons: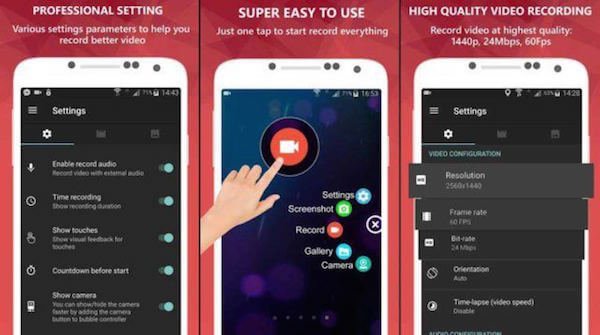 2. Screenshot Touch
Just as its name shows, Screenshot Touch focuses more on screenshots. You can get more choices to screenshot on Alcatel One Touch. Moreover, Screenshot Touch app offers the built-in image cropper and photo viewer.
Pros:
Screenshot web page with whole scroll capture feature.
Capture Alcatel screen by touch including notification area, overlay icon and more.
Share the URL in a web browser to take a screenshot on Alcatel.
Cons:
Contains ads.
Have in-app purchases.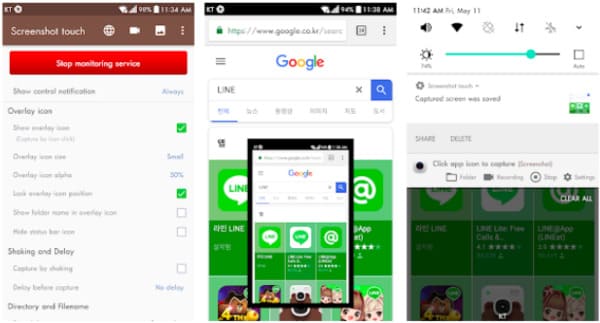 3. Screen Master
By using Screen Master, you can screenshot on Alcatel by shaking the phone or choosing the floating button. In addition, the Alcatel screen capture app provides many annotation features. Therefore, you can edit your Alcatel screenshot within Screen Master directly.
Pros:
Offer two methods to screenshot on Alcatel One Touch Pixi and other models.
Offer a variety of image annotation features, such as crop, add text, draw arrow, etc.
Support to save screenshots to the external SD card.
Cons:
Need to purchase to access all screenshot features.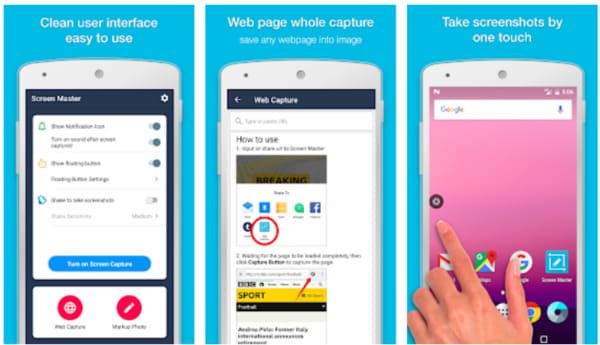 4. Screenshot Easy
Screenshot Easy allows users to take screenshots easily on Alcatel phones. Moreover, you can view, edit and share the Alcatel screenshot directly using Screenshot Easy app too.
Pros:
Use screenshot icon or share your smart phone to screenshot on Alcatel.
Offer long click search hardware and other features.
Custom shortcut with the built-in tools.
Cons:
Screenshot Easy works with root and some not rooted devices only.
5. Screenshot
Just search Screenshot in the Google Play store to get this Alcatel One Touch screenshot app. What's more, you can get more choices to manage with your Alcatel screenshots.
Pros:
Share screenshot or set the path to save your Alcatel One Touch screenshot quickly.
Add text, add mosaic, trim, paint and do other changes on your screenshots.
Browse and edit all history screenshots freely.
Cons: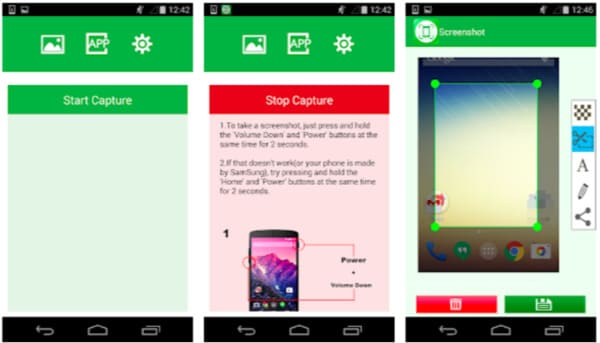 6. Screenshot Snap Free
Well, Screenshot Snap Free allows users to screenshot on Alcatel One Touch for free, just as its name shows. You can run this free screenshot app to capture, edit and share screenshots on the go, However, you need to upgrade to the paid version to get image scaling and other advanced features.
Pros:
Provide "Open with Snap" option to take and modify camera snapshots.
Draw and write on screen capture contents.
Share your screenshot by any installed application like email, Picasa, Google +, etc.
Cons:
Screenshot Snap free version contains ads.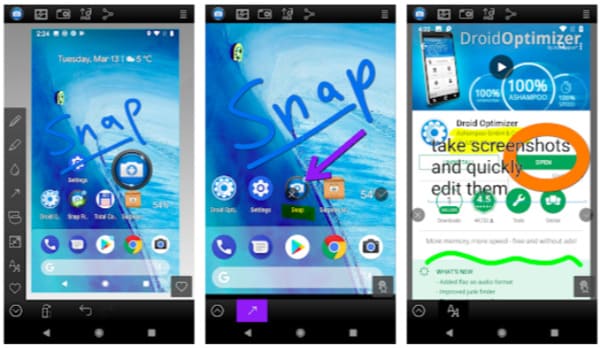 7. Apeaksoft Screen Recorder
If you want to get ultimate screenshot editing tools, then Apeaksoft Screen Recorder can be your smart choice. You can connect Alcatel to your Windows or Mac computer through a lightning USB cable. Later, just run Screen Recorder to screenshot on Alcatel One Touch and other Android phones or tablets freely and easily.
Pros:
Record screen video with audio and export to selectable formats.
Take screenshot in high resolution during video recording.
Use hotkey combinations to record record/capture or finish the project instantly.
Mark up your screenshot with a text box, arrow, highlight, step tools, changeable cursors and many other drawing tools.
Simple, clean and user-friendly interface.
Cons:
It is not a lightweight screen recorder app for Alcatel One Touch in some degrees.
Further Reading:
Review of Action Screen Recorder and Its Alternative
Well, these are your 8 different ways to screenshot on Alcatel. You can get all kinds of features to customize screenshots in different levels. Still have problems while taking Alcatel screenshot? Wanna recommend other good apps to screenshot on Alcatel One Touch?
Just leave messages in the comments or feel free to contact us. We are glad to help you whenever you need.