Actually you might use iPhone more frequently than computer now. When you save something important on iPhone, how to control iPhone from computer? iPhone has great and powerful features, including applications that support you controlling your iPhone from computer.

But most of these applications do require you to jailbreak your iOS device, which is really frustrating. Luckily, there are still some amazing programs that allow you to control your iOS device from computer without jailbreak remotely. And this passage will list a couple of them to you, as well as the detailed guidance about how to use these apps to control your iPhone from computer.
Top 1

: How to Control iPhone from Computer with AirServer

If you have a Mac, AirServer should be a nice choice for you to control iPhone from computer. AirServer, as a solid application, supports you to act your Mac as an AirPlay receiver, therefore allowing you to mirror your iPhone screen on Mac. AirServer works wirelessly, and is supported to adjust the mirroring quality, on the basis of resolutions (from 720p to 1080p and etc), and also on the basis of the connected device. Read on and learn how to control iPhone from computer with AirServer:

Step 1. Download and install AirServer

Download AirServer on your Mac, and install the program according to the instructions. You can find this app on AirServer.com. Then connect your iOS device to the same wireless network as the Mac.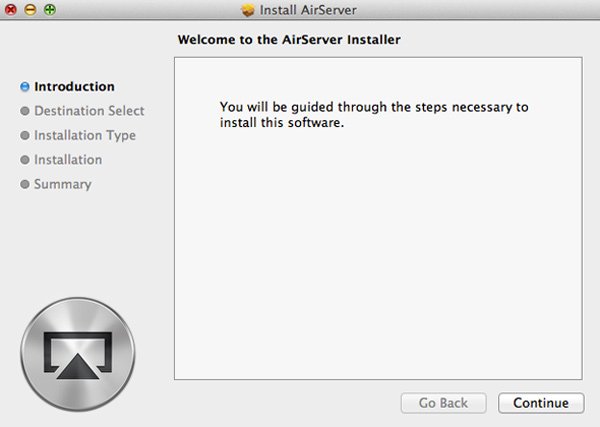 Step 2. Open Control Center
Pull up the Control Center from the bottom of your iPhone, tap on the AirPlay Mirroring option, and select the which Airplay receiver you want to show iPhone screen to from the list.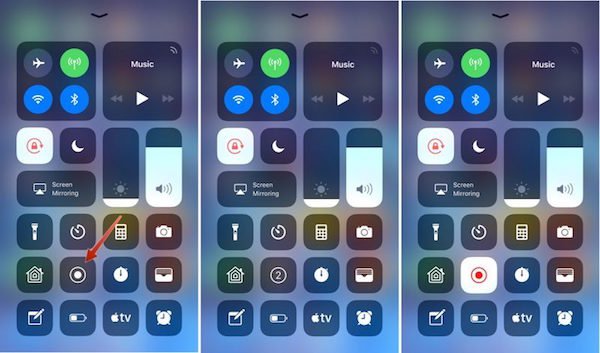 Step 3. Mirror iPhone on Mac
Then your iPhone is connected to the Mac. And you can start steaming content from AirPlay-enable app to AirSever. Simply click on the mirroring switch and turn the switch green, you have enabled iPhone screen shown on Mac successfully.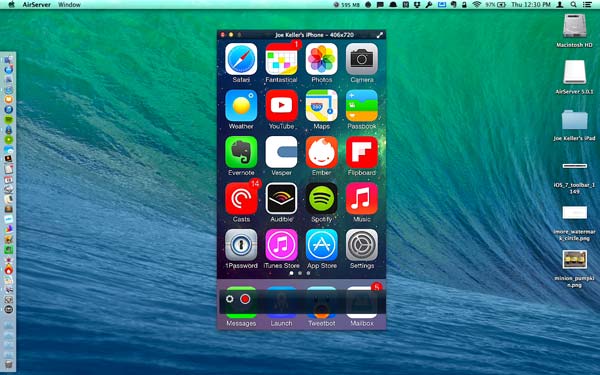 Step 4. Control iOS device on Mac
Now you are allowed control your iPhone from the computer directly. Try to resize your iPhone screen and go on with the task on the Mac. That is it!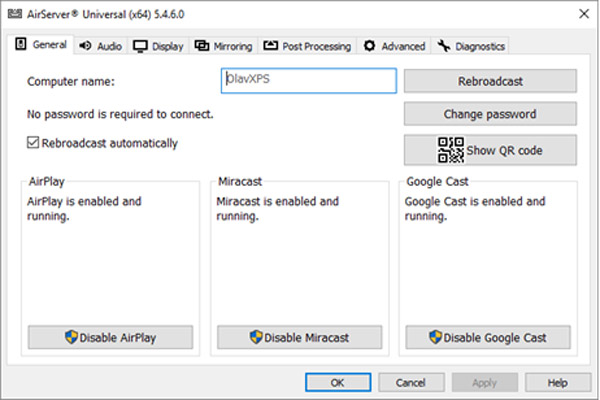 Top 2: How to Control iPhone from Computer with ISL Light
If you want to access your iOS device directly from computer and get more control, ISL Light should be much more helpful as for the case. ISL Light is designed as a remote desktop application to supports you access unattended computers and other device. It will remotely access and manage your device to provide on-demand IT support, and allows you to view the screen and control a remote iPhone from computer. Whatever, ISL Light will be perfect to those who want to troubleshoot problems with the iPhone as well as manage data and configure the device.
Following are the step-by-step instructions about how to manage your iOS device from computer with ISL Light:
Step 1. Download ISL Light
To control iPhone from computer, firstly you need to download the ISL Light for your computer, and the other ISL Light app for your iPhone. The computer app is available for Mac, Windows and Linux.
Step 2. Turn on ISL Light
After downloading, install and open ISL Light on your computer. After that you can launch a session. And go to your iPhone and Turn on the ISL Light app to connect to the existing session.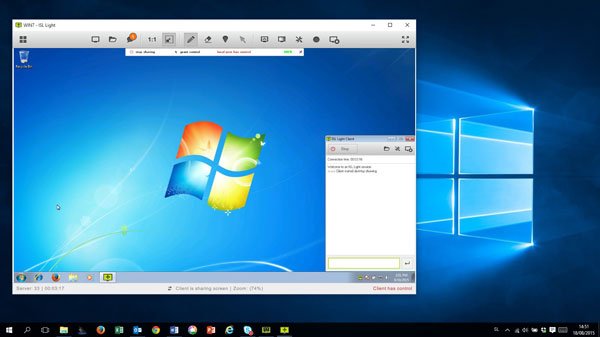 Step 3. Connect iPhone to computer
Next share the session code with your iOS device for the connection. Once connected, you are allowed to access your iPhone over Wi-Fi, 3G or LTE.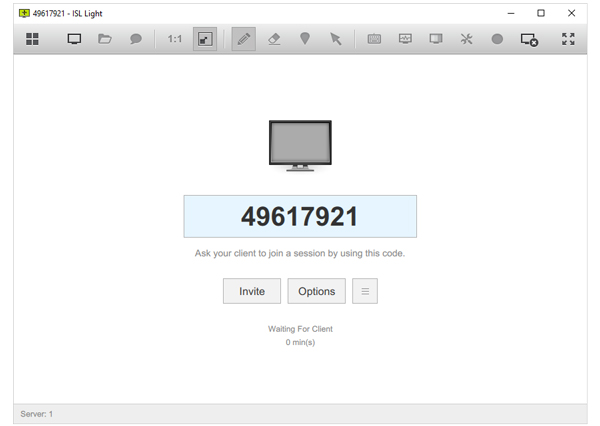 Step 4. Get control to iPhone
You are able to control your iPhone from the computer now. You can see live sceenshots on iPhone, chat with the iPhone user remotely and so on.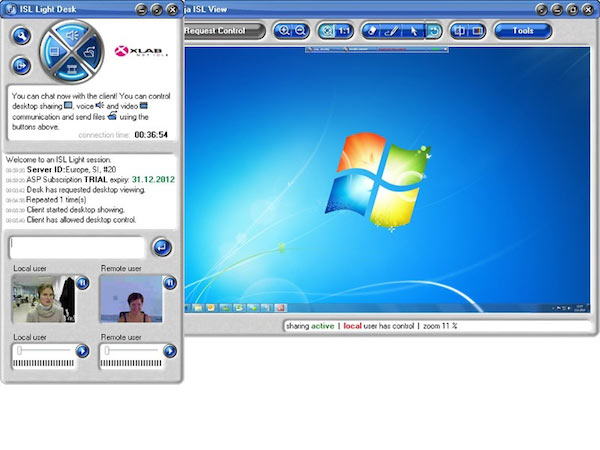 Top 3: How to control iPhone from computer with Chrome Remote Desktop
Chrome Remote Desktop was developed for Android users before, but has since been extended to cater for iOS users. It allows you to control one device from the other machine. Once connected, Chrome Remote Desktop will give the master computer access to all of the contents on the remote device, and provides many features such as transferring files, text chatting and etc.
To control iPhone from computer with Chrome Remote Desktop:
Step 1. Install Chrome Remote Desktop
You need to download this app on your computer, and install its free iOS vision on your iOS device, too.
Step 2. Connect iPhone to Computer
After installation, make sure you have connected both iPhone and computer to the same Wi-Fi network. Or you can plug a lightning cable to connect these two devices.
Step 3. Once a connection established, you are able to access and control your iPhone from the computer remotely.
You can perform anything you want on the computer, from playing videos, creating documents to configuring apps.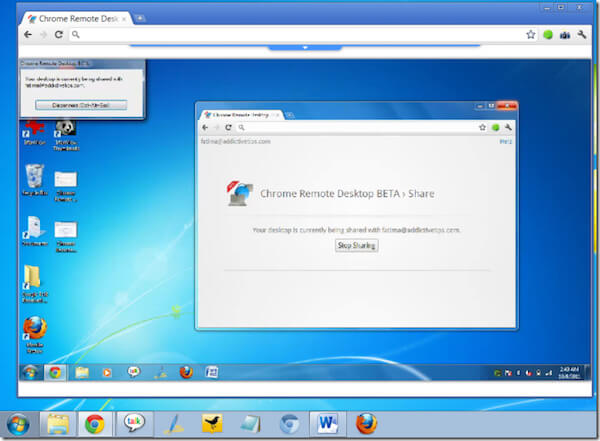 Best Method to Record iPhone from Computer
Apeaksoft Screen Recorder is a powerful and professional screen recording program and screen capture tool with high definition, which is highly recommended for you. You are given options to capture game video, grab online movies, record webcam videos or take screenshots on your windows. And you can choose to record video in full screen or a desired region of screen with ease. In general, Apeaksoft Screen Recorder, as a free screen recorder, deserves you to download and have a try.
Apeaksoft Screen Recorder can help you to record almost all the screen videos that you want to record, including online games, learning course, Skype calls and so on.
You are supported to highlight the movement of mouse cursor in order to make it easier to track when you are capturing the screen videos.
This screen recorder can also save your webcam videos directly on your PC, even allow you to chat with friends when the videos are recording.
Once you have done with the video, you can export it in MP4or WMF and share on the Internet or play it on most players easily.
Download for Win
Download for Mac
Conclusion:
With these remote applications, you have more capabilities to control your iPhone from computer. Just follow this article and have a try. Hope it helps you to some extents!
If you have more thoughts about controlling iPhone to Mac, please share them in the comment.