- "I forgot my restriction code and I don't know how to find it. Now, I can't reset my iPhone because the code is required."
- "I don't even remember using a restriction passcode. But I was told to disable restrictions when I want to delete apps from my iPhone."
- "How can I get my restriction passcode without doing a factory reset?"
There are lots of similar questions asked in many forums. The same theme is how to reset restriction passcode on iPhone or iPad. What can iPhone restrictions do? Why so many people set restrictions on iOS device?
Well, the restriction settings can also be called as parental controls. It is an easy way to prevent teenagers from playing games or using certain apps. By setting a four-digit restriction passcode, parents can adjust those locked applications and contents at any time.
After setting a restrictions passcord, only you are allowed to enter the correct restriction passcode and access restricted items.

There are many reasons explains why people want to reset restrictions passcode. But it does not matter actually. This article will show you step-by-step guide to reset a restrictions passcode on an iPhone or iPad, especially for people who forgot restrictions password.
Part 1: How to Reset the Restrictions Passcode without Computer (Remember Password)
There are many approaches to change restrictions passwords on iPhone. For people who remember the code, it is easy to reset restrictions passcode without computer. All you need to do is to type the old restrictions passcode on iPhone first, and then reset iPhone with a new restrictions passcode. All your iOS data remains intact. It is also available if you want to turn off restrictions on iPhone.
Step 1. Enter your restrictions passcode
Open "Settings" app on iPhone. Click "General" and then hit "Restrictions". You will be required to enter your restriction passcode. Select "Disable Restrictions" and enter restrictions passcode again if you want to turn off restrictions. Otherwise, you can skip this operation.
Step 2. Enable restrictions and reset a restrictions passcode
Trigger "Enable Restrictions" under "Restrictions" menu. You can reset a new restrictions password for your iPhone or iPad during this process.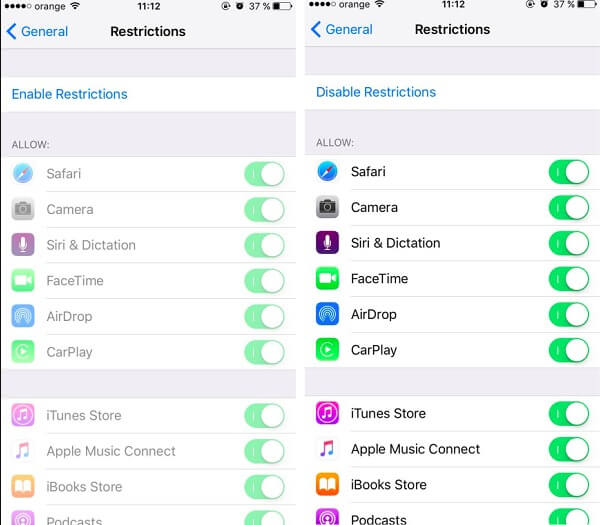 In addition, you can add or remove restricted applications after entering the restriction passcode too.
Part 2: How to Reset Restriction Password (Forget Restriction Passcode)
But what can people who forgot restrictions passcode do? Is there any method that people can remove and reset restrictions passcode? The answer is Yes. You can reset a forgotten restrictions passcode with iTunes. As a result, you have to restore iPhone to remove previous restrictions passcode. Additionally, it is necessary to back up iPhone data before factory reseting your iPhone.
Note: To start with, you need to open "Settings" and turn off "Find My iPhone" under "iCloud" menu on iPhone. And then back up data from iPhone with iTunes. Do not forget to update iTunes to the latest version.
Step 1. Use a USB cable to connect iPhone to computer
Step 2. Launch iTunes and click "Summary" button
Step 3. Choose "Restore iPhone" and hit "Restore" to confirm
Step 4. Select "Set Up as New iPhone" when iPhone restarts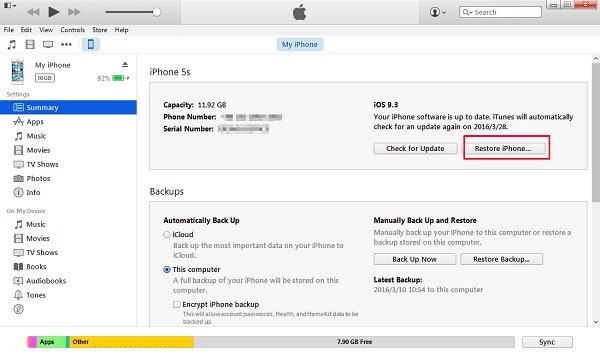 After that, you can reset restrictions passcode on iPad or iPhone again. Just open "Settings", click "General" and then turn on "Restrictions".
Part 3: How to Reset Your Device, If You Don't Know the Restriction Password
To save time on factory resetting iPad and other Apple products, you can use iPhone Eraser instead. It is a powerful tool that can erase all contents and settings from your iPad permanently and thoroughly. Just set its erasing level, and then you can reset forgotten restrictions passcode on iPad and iPhone easily. All iOS devices are supported including iPhone X/8 Plus/8/7 Plus/7/6s Plus/6s/6 Plus/6/5s/5c/5/4S, iPad and iPad touch.
Step 1. Launch iPhone Eraser to detect your iPhone
Download and install iPhone Eraser. Launch it and then use a lightning USB cable to connect iPhone to computer. iPhone Eraser will detect your iPhone automatically.
Step 2. Set an erasing level to remove a restrictions passcode
There are three different erasing levels, which means you can overwrite iPhone with different times. You can choose from low, medium and high erasing levels to erase contents and settings on iPhone.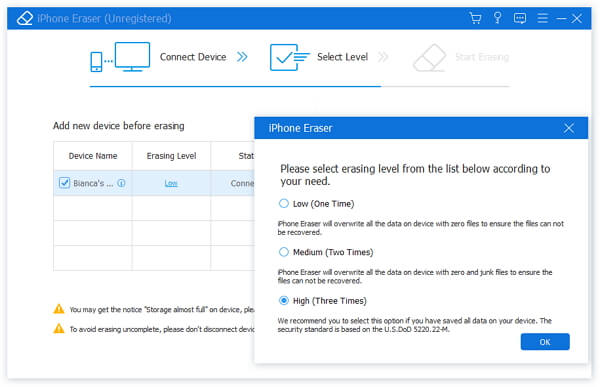 Step 3. Start erasing restrictions passcode on iPhone
Hit "start" button to complete the whole process of erasing forgotten restrictions passcode. Later, you can reset restrictions passcode on iPad without iTunes easily.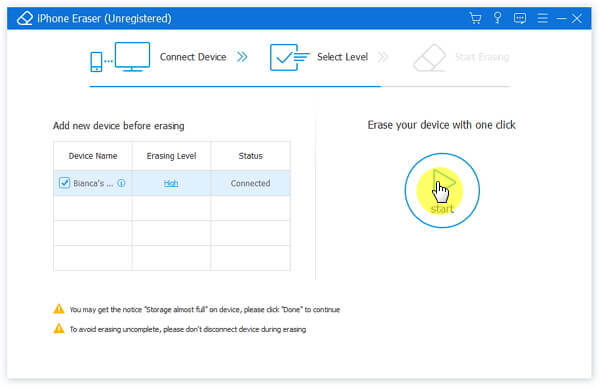 You can also use iPhone Eraser to protect your privacy by cleaning up iPhone thoroughly. For instance, it will be better to erase everything on iPhone with iPhone Eraser before reselling it on eBay.
Get a quick check from this video tutorial to reset password-forgotten iPhone:
Tips and Tricks of Resetting Restrictions Passcode
Just read and choose any method to reset restrictions passcode on iPhone or iPad. Even though you forgot restrictions passcode on iPhone or iPad, you can still reset a new restrictions passcode by yourself. As you can see from above, the recommended iPhone Eraser is the best choice to reset your iOS device.
Just operate as mentioned above, you need to factory reset iPhone with iTunes or other tools to remove your previous restrictions password first.
If you delete something important by mistake, it is quite easy to get deleted iPhone files back using iPhone Data Recovery. That's all for the tutorial of resetting iPhone restrictions passcode. If you have anything hard to understand, feel free to contact us.