If you have an Apple device, such as iPhone, iPad, iPod Touch and Mac, then you definitely know the importance of Apple ID. You can use it to access iTunes, App Store, iCloud, FaceTime and Apple Online Store, just like a passport to all Apple services. So, it will be quite troublesome if you forget Apple ID. But if this really happens to you, what should you do?
In this post, you will learn how to quickly find your Apple ID. We will also provide you a way to help you completely remove the forgotten Apple ID from your device to sign up for a new one.

Forgot Apple ID Email
Part 1. Remove the Forgotten Apple ID
Generally, in most countries and regions, people use email to create a new Apple ID, which means your email is linked to your account. So, for normal use, it would be best for you to keep it in mind.
If you don't have much important data under this Apple ID and need to use the features of iCloud and iTunes, you'd better remove your current Apple ID and apply for a new one. In order to get full control of your iOS device right away, you can let Apeaksoft iOS Unlocker help you accomplish the removing process. Then you can use another Apple ID to activate your device and enjoy full features with no limit any more.

Recommendation
Remove current Apple ID when you forgot Apple ID email or passcode.
Wipe password from your iPhone/iPad/iPod Touch which is broken, disabled, locked, etc.
Remove any locks from Face ID, Touch ID and numerical code on your device.
Recover & remove Screen Time password to use iPhone with no limit.
Compatible with iPhone 15/14/13/12/11, iPad Pro, iPad, iPod touch, etc.
Step 1 Install & Launch iOS Unlocker
Free download iOS Unlocker to your computer. You can choose different version according to your computer system, Mac or Windows.
Launch the program on your computer.
Step 2 Connect iOS device to computer
Select Remove Apple ID mode and connect your iOS device to computer with a USB cable.
Step 3 Remove Apple ID
Click Start to start removing your Apple ID and iCloud account.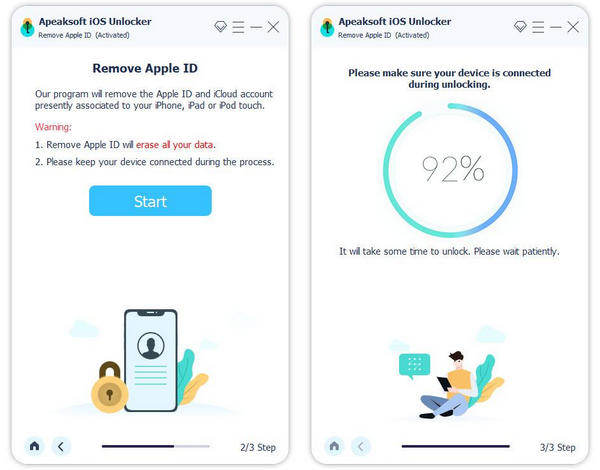 1. All data on your iOS device will be erased.
2. Don't disconnect your device during the process.
3. Don't use iTunes to update or restore your device.
4. Don't erase all content and settings on your device before using this method.
Part 2. Easy Steps to Find Your Apple ID Email
If you don't want to remove your Apple ID but truly forgot your Apple ID email, you still have several ways to get it back. Please see follow.
1. If You are Signed Out
If you can still remember all your email addresses but just cannot recall which one you used for registration, then you can simply try signing in with these email addresses one by one until the right one shows up.
2. If You are Signed In (iPhone/iPad/iPod Touch)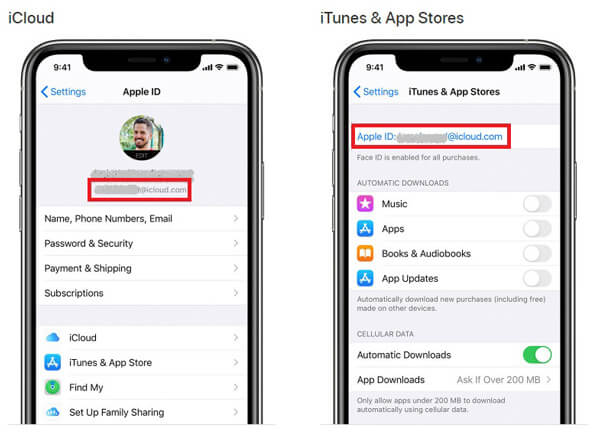 Method 1. Go to Settings > [your name], and then you can see your email address under your profile. If you are using an old iOS version, you should tap Settings and then iCloud.
Method 2. Navigate to Settings > [your name] > iTunes & App Stores. On earlier iOS versions, please press Settings. After that, tap iTunes & App Stores.
Method 3. Tap Settings > Passwords & Accounts > iCloud. As for iOS version before 11, tap Settings > Mail > Contacts > Calendars.
Method 4. Press Settings > Messages > Send & Receive.
Method 5. Visit Settings > FaceTime.
3. If You are Signed In (Mac)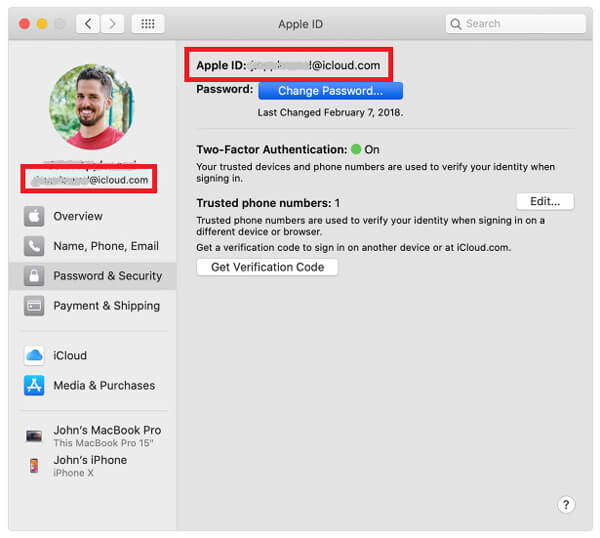 Method 1. Select Apple menu > System Preferences > Apple ID.
Method 2. Find Apple menu > System Preferences > Internet Accounts. Now, choose an iCloud account in the side bar.
Method 3. Open App Store on your Mac. Find Store > View My Account.
Method 4. Launch FaceTime app and click FaceTime > Preferences.
Method 5. Run Messages. Select Messages > Preferences. Now please choose iMessage.
4. If You are Signed In (PC)
Method 1. You can find your email with ease by opening iCloud for Windows on your computer.
Method 2. Run iTunes on your computer. Then click Account and View My Account. This also works on Mac.
5. If You are Signed In (iCloud.com)
Visit iCloud.com. If you're signed in, then go to Account Settings. You can see your account info there. If not, then you may be stuck on the login page.
6. If You are Signed In (Apple TV)
Method 1. Choose Settings > Users and Accounts > iCloud.
Method 2. Select Settings > Users and Accounts. Then find your account and open Store.
Part 3

: FAQs of Forgetting Apple ID Email

Q1: Can I use a Gmail account for an Apple ID?

Yes, you can. In fact, iCloud email system has many restrictions. Therefore, instead of signing up for a new iCloud email, you can actually use your existing email address to create an Apple ID.

Q2: When do I use my Apple ID?

When you set a new iOS device, purchase an item or try any other Apple service, you will need to sign in with your Apple ID. So that you can access to the service and get full control of your device.

Q3: Should I make a backup file before I remove my Apple ID?

If you value the data on your iPhone, then you should backup your iPhone to your computer.
After removing your Apple ID, you can restore your iPhone data if you want.
Conclusion
So far, we have introduced multiple methods with you to get your email back. So, you don't have to worry that you may forget the email of your Apple ID any more. Even if you forget Apple ID, you can always use Apeaksoft iOS Unlocker to remove it.
If you find this article useful, don't hesitate to leave a favorable comment below. You can also follow us on Facebook and Twitter to get the latest news.