Are you looking for a feasible way to root your HTC phone? If your answer is "Yes", the first step you need to do is to unlock the Bootloader of your HTC device.
Bootloader is a code existing in all operating systems that usually comes pre-locked. However, unlocking Bootloader is not as easy as it sounds like. You have to deal carefully so that you will not tamper with system software, or you may met the worst station that your device is damaged permanently.

Fortunately, this tutorial is focusing on introducing a comprehensive guidance about how to unlock HTC Bootloader, as well as what you need to pay attention to.
One thing to illustrate, unlocking HTC Bootloader will void the warranty on your HTC phones once it is done. So if you still need to unlock HTC Bootloader, read on and learn how to achieve it correctly.
Part 1

: Why need to unlock HTC Bootloader, what is need

Before you start to unlock Bootloader in the HTC device, it is of importance for you to figure out why you need to unlock the Bootloader.

Generally speaking, unlocking HTC Bootloader means that you are able to release the true powerful of HTC device. That is to say, you can have complete authority over the HTC phones after unlocking Bootloader.

In addition to this, you are also allowed to install the latest custom ROM, download the incompatible apps and so on in the HTC phone. What's more, HTC unlock Bootloader enables to improve the speed of HTC device, extend battery life, and also contribute to the backup completeness of the device.

As a consequence, the HTC phone that is Bootloader unlocked could be the perfect smart phone. It deserves you to have a try!

And you need to prepare the following two things to make a perfect complete of HTC Bootloader unlocking:
An HTC device where you are going to unclock the Bootloader
Access to a PC
Part 2

: Backup Android before HTC unlock Bootloader

Next, you also need to make an up-to-date HTC backup before HTC unlock Bootloader. This backup can transfer all your data from your computer to the HTC device so that you do not worry all the data in your device will be damaged once the unlocking is failed.

To make everything is alright, you are strongly advised to use a professional data backup program. And Apeaksoft Android Data Backup & Recovery should be the best choice for you. With this powerful backup software, you can easily backup and recover all you data on your HTC device, such as photos, videos, messages and contacts, etc.

To back up data before unlocking Bootloader in your HTC phone:

Step 1: Download Android Data Backup & Restore

Download and install Apeaksoft Android Data Backup & Recovery on your computer. Then launch this app and choose one-click back up your HTC data.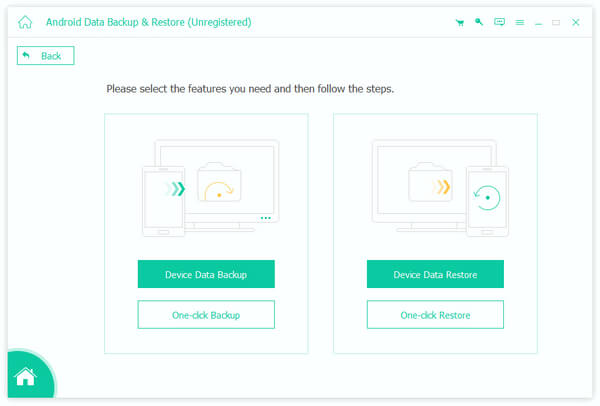 Step 2: Connect your iPhone to PC
Plug the HTC phone to your computer via a USB cable. Once connected, Android Data Backup & Recovery will detect your Android device automatically.
Step 3: Back up your data
Next, click the "Start" button, Android Data Backup & Recovery will immediately backup all your data from HTC to the computer before HTC unlocking Bootloader.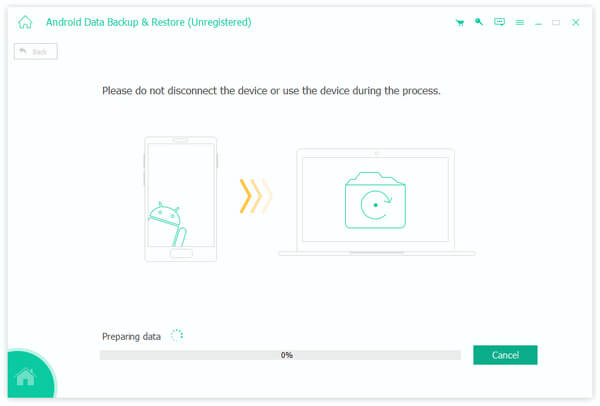 Part 3

: How to unlock HTC Bootloader

In order to completely control your HTC phone, it is vital to carry out the HTC Bootloader unlocking discreetly and carefully. And make sure the battery is full charged beforehand. Now, follow the next tips to start unlocking:

Step 1: Download Android SDK

Download and install Android SDK in your HTC device. Then check the Fast Boot option is equipped in both the phone and computer.

Step 2: Go to htcdev.com

Open the webpage of HTC dev. And log in with your account and password. Then tap on "Unlock Bootloader" to go to the Bootloader screen.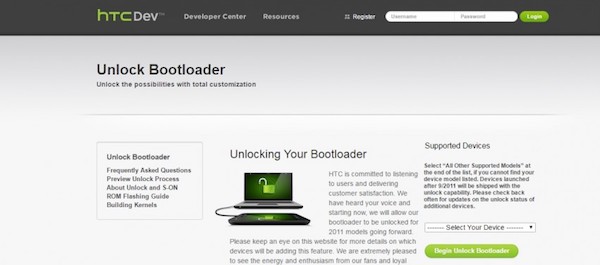 Step 3: Select your phone
Choose the model of your HTC device from the drop-down list. Then click "Begin Unlock Bootloader" and tick to agree the legal term.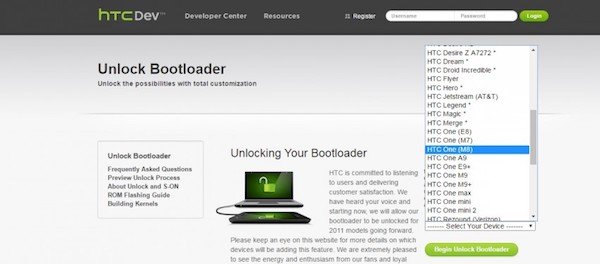 Step 4: Turn HTC into Bootloader mode
Disconnect your phone from computer and turn it off completely. Hold down the volume down button and the power button to turn the device into Bootloader mode.
Step 5: Get HTC into Fastboot mode
Press the Volume up and Volume down keys to select Fastboot from the menu, and hold the Power button to confirm. And connect your phone to the PC again.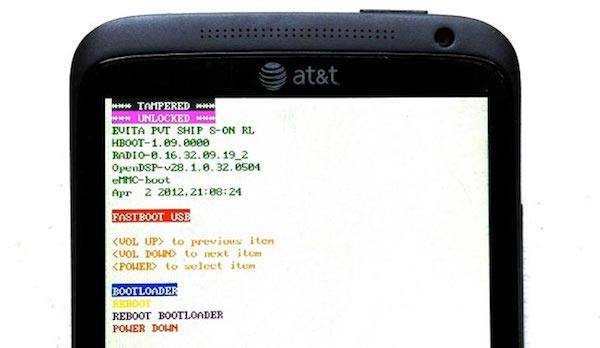 Step 6: Unlock Bootloader token appers
Turn to your computer, and enter the Fastboot folder. Click on "Open command window here" and enter "fastboot devices". If successfully, your device will appears in the command prompt.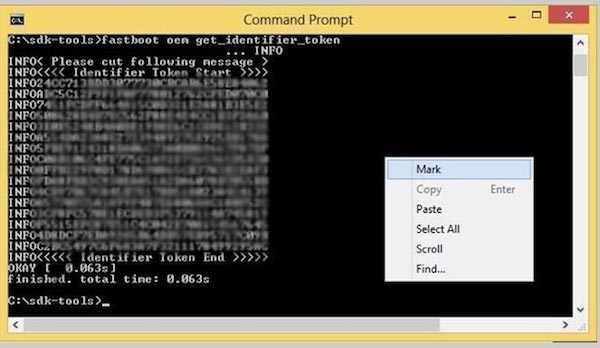 Step 7: Get back an email
Now you can see the unlock Bootloader token appears. Paste the token ID and slick "Submit" in the HTC Developer unlock Bootloader wizard. Then you will receive an email with an attachment as well as a file called unlock_code.bin.
Step 8: Unlock the device Bootloader
Download the token and save it in the Fastboot folder. And type "fastboot flash unlocktoken Unlock_code.bin" in the command prompt window. Next tap "Yes" by pressing Volume key to select and Power button to confirm.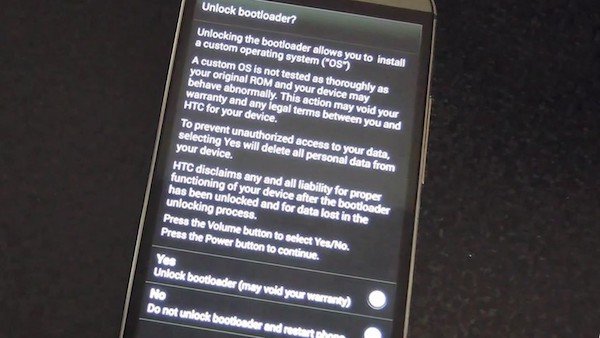 Now your HTC phone will restart. When it has booted up, the Bootloader in your HTC is unlocked, and you are able to perform some advanced tasks!
Part 4

: Alternative HTC unlock code generators
Top 1. alternative HTC unlock code generator --- Unlocksimphone
If you're looking to unlock your HTC phone, you came to the right place! Unlocksimphone is an easy but efficient HTC unlock code generators, requiring no technical knowledge. Also, The whole process only takes a few minutes, and can be done from the comfort and convenience of your own home.
Step 1: Download Unlocksimphone app in its official website. You need to download a survey first and finish it.
Step 2: Install this software in your computer, and you will see a detailed guidance about how to unlock your device.
Step 3: Just follow the instrautions in this HTC unlock code generator, you can simply finish the unlocking.
Top 2. alternative HTC unlock code generator --- Free Unlocker
Free Unlocker is a complete free service to help you unlock HTC device. This powerful HTC unlock code generator enables you to unlock your Android phone for free remotely. With Free Unlocker, you can keep on using your current HTC phone with different service provide and do not have to buy a new one.
Step 1: Send the detail information, including IMEI, phone model, country, carrier and etc, to Free Unlocker.
Step 2: Finish a shot survey and share the URL to your friends, as the price of the unlocking.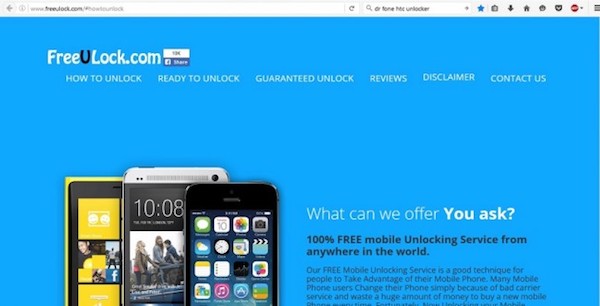 Step 3: Next the website will send you an email with unlock code and instructions inside. Go to unlock your HTC phone according to the instruction.