As a HUAWEI user, have you ever gotten inconvenient that you are not allowed to tweak, modify the system in your HUAWEI device? Or have you ever wanted to make a unique device that is different from others'? To make a new custom on your HUAWEI phone, you need to unlock the HUAWEI bootloader first.

To be honest, HUAWEI unlocking bootloader is an easy and simple process. Different with Sony, Motorola and other Android brands, HUAWEI enables you to unlock the bootloader within the HUAWEI phones.
Just get an unlock password from the official HUAWEI website, and then issue a few ADB & Fastoot command, you are easily able to make the HUAWEI bootloader unlocked.
If you do not know the detailed steps, you have come to the right place! This tutorial is going to show you the necessity to unlock HUAWEI bootloader and how to make it in detail. Also, you will learn how to backup your HUAWEI device before unlocking. If you are interested with HUAWEI bootloader locked, please read on and learn more details.
Part 1

: Reasons to unlock HUAWEI bootloader

Each Android device, of course HUAWEI included, has a bootloader to instruct the operating system kernel so that the Android device can boot normally. Usually, the bootloader is locked on the Android device, cause the manufactures want users to stick to their Android OS vision that are specifically designed for their Android device, and HUAWEI is no exception.

So if you are eager to have more control of your HUAWEI device, such as rooting your phones, flash a custom ROM, install modified system and so on, you have to unlock the bootloader in the HUAWEI device beforehand.
Part 2

: How to unlock HUAWEI bootloader with kingoroot

Here you are recommended to use Kingoroot, one of the best and easiest root tool for free, to help you unlock bootloader in HUAWEI device. The Kingoroot contains the Android SDK so that it will download the LG USB driver automatically once connected to the PC. Though Kingoroot has powerful features in rooting, here it is used as an alternative to Android SDK and USB driver.

Before starting unlocking bootloader, make sure your HUAWEI is fully charged or the battery level is more than 50%, and all the data in the device is backed up already. Now, follow the next tips to achieve HUAWEI bootloader unlocked.

Step 1: Download and install Kingoroot

Free download and install Kingoroot app in your computer. And then plug your HUAWEI phone into the computer via a USB cable. Do not disconnect your phone during the whole process.

Step 2: Launch the Kingoroot

Double click on the icon of Kingoroot to launch it. As soon as you open it, this freeware will download the USB driver of the HUAWEI phone automatically. Find and open the folder of "Kingo Root" in your PC, and open the folder of "tools" that is under the "Kingo Root" folder. Next enter "cmd" in the address bar.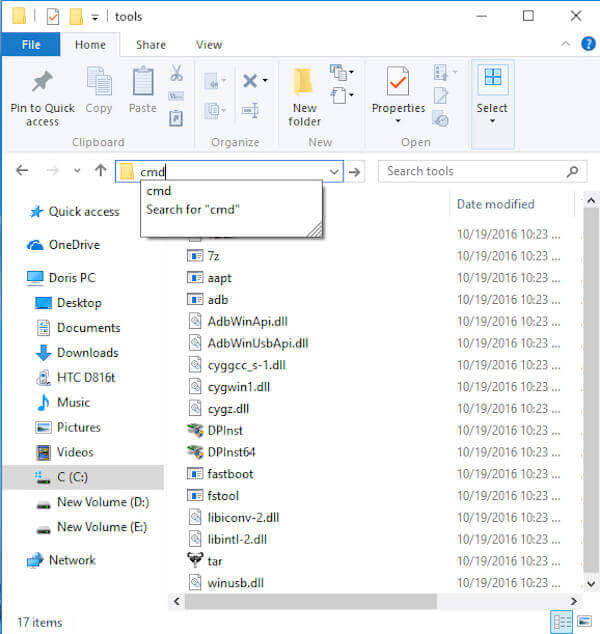 Step 3: Unlock HUAWEI bootloader
Click "adb devices" option to run the command when popping up a Command Prompt window on your PC. If you can see a serial number, that means your HUAWEI phone is recognized.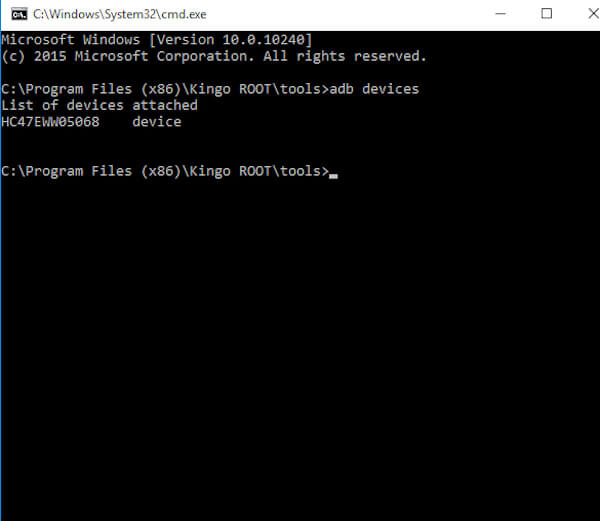 Step 4: Submit IMEI number
Go to the HUAWEI unlocking webpage, and log in with your account. Tick the unlocking agreement, and provide the detail info about your device, like IMEI number, and tap on "Submit" button.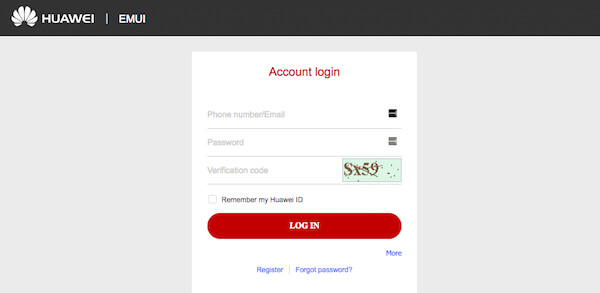 Step 5: Reboot your phone
Next you will get a 16-digit bootloader unlock password. Then run command fastboot oem unlock your-unlock-password. And use the Volume key to reboot your HUAWEI phones. After your device booted up, you have managed to make HUAWEI bootloader unlocked!
Don't Miss: How to reset a HUAWEI phone.
Part 3

: How to backup data before root HUAWEI bootloader

Before unlock HUAWEI bootloader, you may get frustrated about how to backup data. Here this passage will tell you the best and most efficient way to backup the HUAWEI device without any loss of data. Apeaksoft Android Data Backup & Recovery is one of the most powerful and professional backup and recovery software for Android. With this wonderful backup tool, you can easily backup everything from your locked HUAWEI phone, including messages, videos, photos, contacts and so on.
Safely and selectively back up your Android data.
Back up contacts, messages, call logs, gallery, videos, audio and documents, etc.
Restore data from backup files to Android device or PC/Mac.
Support devices like Samsung, LG, Huawei, Sony, HTC, Sharp, Windows phone and more.
Download for Win
Download for Mac
Here are the detailed steps to backup all your data before HUAWEI bootloader unlocker:
Step 1: Download Android Data Backup & Restore
Download Apeaksoft Android Data Backup & Recovery on your computer, and install it according to the instructions, then launch this app by double clicking on its icon.
Step 2: Connect your iPhone to PC
Connect your HTC phone to your computer via a USB cable. Once connected, Android Data Backup & Recovery will detect your Android device automatically. Then choose one-click back up your HTC data.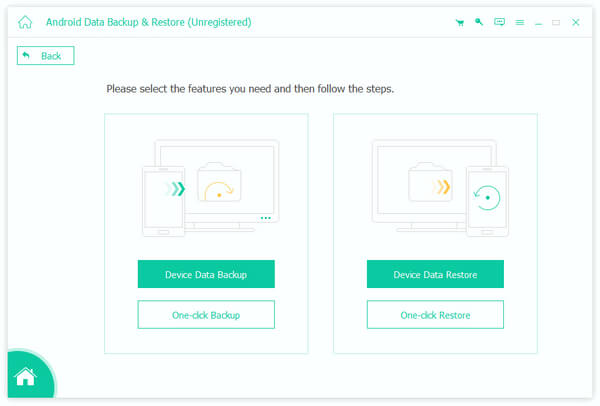 Step 3: Back up your data
Finally, click the "Start" button to launch the backup process. Android Data Backup & Recovery will immediately backup all your data from HTC to the computer so that you can continue to unlock HUAWEI bootloader.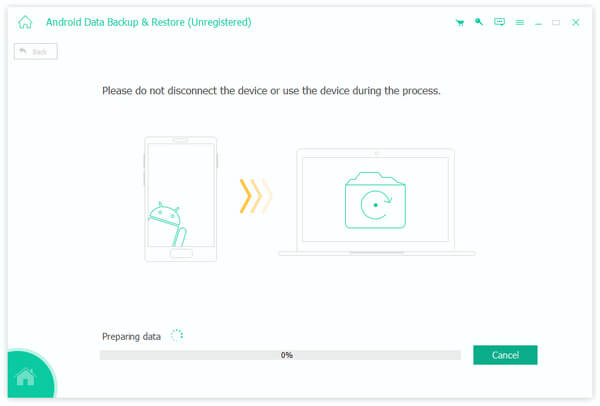 Part 4

: Important update for HUAWEI bootloader

Besides backing up your HUAWEI device, making sure you have downloaded the latest HUAWEI USB Drivers on your PC is also an important pre-requirement.

To update newest HUAWEI USB drivers:

Step 1: Tap on Settings icon to launch it on your HUAWEI phone, scroll down the page and choose "Developer" option.

Step 2: Enable Deveolper options, USB Debugging, and OEM unlock on your HUAWEI device.

Step 3: Then do not forget to set up ADB and Fastboot on the computer.
Conclusion:
This tutorial is an ultimate guidance about how to get your HUAWEI bootloader unlocked. After reading this page, have you managed to unlock the bootloader in your HUAWEI phone? Please share your experience and problems in the following comment. And do not forget to share this post to your friends if it helps you to some extents!