MobileIron MDM is a powerful tool organizations use to manage and secure mobile devices. It provides advanced features like remote device management, data encryption, and application control. However, there may be instances where you need to remove MDM from your device. This article provides a detailed guide on effectively removing the MobileIron MDM profile.

MobileIron MDM Removal
Part 1. What Is MobileIron MDM
MobileIron is a famous provider of Mobile Device Management (MDM) solutions that help organizations secure and manage their mobile devices and applications. MDM refers to the technologies and policies organizations use to control and secure mobile devices, such as smartphones and tablets, that their employees use.
MobileIron MDM offers features and capabilities to manage mobile devices efficiently and effectively. One key aspect of MobileIron MDM is device management, which allows IT administrators to enroll, configure, and manage mobile devices remotely. That includes setting up security policies, applying software updates, and remotely wiping devices if they are lost or stolen.
MobileIron MDM provides application management capabilities. It allows organizations to distribute, manage, and secure mobile applications on their employees' devices. Moreover, MobileIron MDM offers security features to protect sensitive corporate data on mobile devices. It also enables secure access to corporate resources, such as email and intranet, from mobile devices. Furthermore, MobileIron MDM includes robust reporting and analytics capabilities, giving organizations visibility into their mobile device fleet and usage patterns.
Part 2. How to Remove MobileIron MDM Profile
By removing the MDM profile, you may lose access to corporate resources, apps, and data that require MDM for security reasons. Ensure you have a clear understanding of the implications before proceeding.
If you use MobileIron MDM on a corporate device, involving your IT department or administrator is essential. They can provide guidance and ensure the process aligns with the organization's policies. They may also provide specific instructions tailored to your organization's needs.
Before removing MobileIron MDM, you should back up your device to ensure you don't lose any personal or valuable data. This can be done through traditional backup methods like iCloud, Google Drive, or using iTunes, Finder, or a third-party data transfer.
Remove MobileIron MDM from iPhone and iPad
Step 1 Open the Settings app and go to General. Scroll down and select VPN & Device Management or Profiles & Device Management.
Step 2 Tap the MobileIron MDM configuration profile. Choose the Remove Management option and enter your device passcode to proceed. Confirm the removal by tapping Remove Management.
Remove MobileIron MDM Profile on iOS Devices Without Authority
ApeaksoftiOS Unlocker is an easy-to-use MDM-removing tool that can help you remove various MDM profiles, including the MobileIron MDM.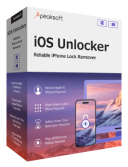 4,000,000+ Downloads
Remove the MobileIron MDM profile on your iPhone or iPad safely.
Remove the forgotten Apple ID password to access Apple services.
Wipe the screen lock, Face ID, and Touch ID to unlock your device.
Bypass iTunes backup password and Screen Time restrictions.
Free download this MobileIron MDM removing software on your computer and open it. Choose its Remove MDM feature to move on. Connect your device to it and click the Start button.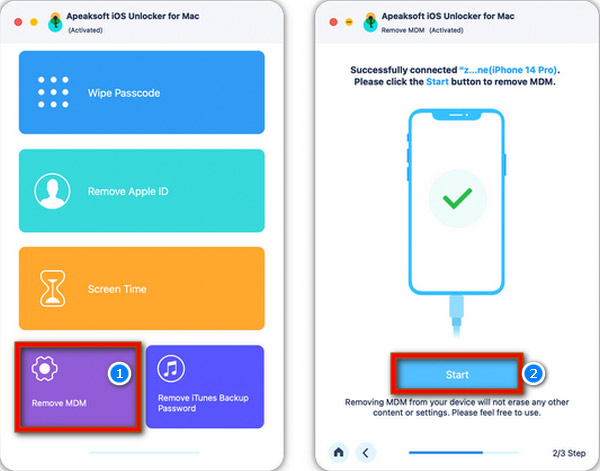 You should turn off Find My on your device to start the MobileIron MDM removal. When disabled, iOS Unlocker will automatically remove the MobileIron MDM profile without any data loss.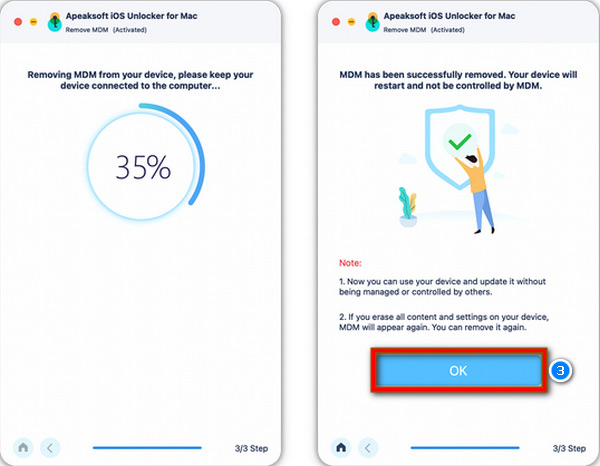 Remove MobileIron MDM Profile on Android Devices
Step 1 Open the Settings app and go to Security or Lock Screen & Security.
Step 2 Look for the Device Administrators or Device Admin Apps option and choose it. Locate the MobileIron MDM profile and tap Deactivate or Remove. You may need to provide your device passcode to confirm the action.
Step 3 After removing MobileIron MDM, you'd better restart your device to ensure the changes take effect properly. Additionally, you can wipe your device if you want to start fresh or return it to its original settings.
Part 3. FAQs of How to Remove MobileIron MDM Profile
How does MobileIron MDM work?
MobileIron MDM offers businesses centralized control and management over their mobile devices, increased security, and improved efficiency in managing mobile deployments. It helps organizations secure their data and applications, simplify device configuration and management, and streamline administrative tasks.
Is MobileIron cloud-based?
Yes, MobileIron is a cloud-based solution. It offers a secure and scalable platform for managing and protecting mobile devices, applications, and content in enterprises. By using the cloud, it enables users to access and manage their mobile devices and data from anywhere, at any time.
Does MobileIron encrypt data?
Yes, MobileIron provides encryption features to help protect data on mobile devices. It uses advanced encryption algorithms to securely store and transmit data on mobile platforms. MobileIron also offers additional security features, such as secure containers and browsing, to enhance data protection.
Conclusion
Removing MobileIron MDM requires careful consideration and adherence to specific instructions. You can follow the steps above to remove MobileIron MDM and regain control of your device.