When you are travelling outside the country, or you are changing and restarting the SIM card, it is highly possible that your iPhone gets locked and you are prompted to "Unlock SIM". It should be quite frustrating, and you have no idea about it.
Do not worry.
There are many iPhone unlockers that provide the paid service to unlock your iPhone.
However, this tutorial is focusing on discussing how to help you free remove security code and unlock SIM card on your iPhone with 4 different but useful solutions.
Just follow the next tips, and you can manage to reboot your iOS device and make calls, send messages as usual.

Please continue reading.
Extended reading: SIM card lock is different iCloud lock on iPhone. Do not miss here to unlock iCloud locked iPhone.
Part 1

: How to unlock SIM card on iPhone via Phone App

When you find that the SIM card is locked on your iOS device, there is an easiest way for you to have a try: to take a phone call with anyone else.

In most cases, it can help most iOS users to unlock their SIM card on iPhone. Here is the step-by-step guide:

Step 1: Go to Phone App

On the menu screen of your iPhone, click on the Phone app to open it, and get into Contacts page.

Step 2: Initiate a call

Choose a number in your contacts at random, and then initiate a call. Next the dialog will return and you are allowed to tap "Unlock" button.

Step 3: Enter SIM PIN

Then you can type in your SIM PIN, and click on the green button to unlock your SIM card on iPhone. You do not need to enter the actual number, but just a bogus one works, too.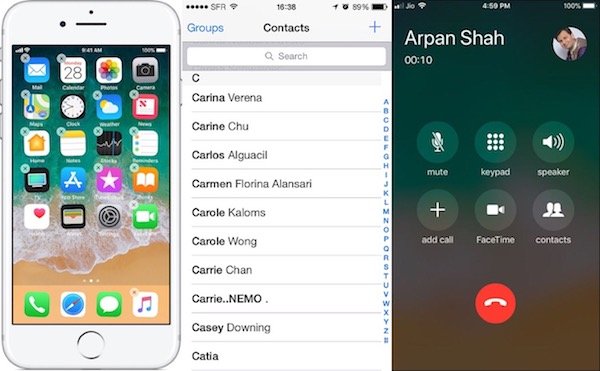 That's it! Now you are done with the process, and you will find your iPhone is unlocked already!
Part 2

: How to unlock SIM card on iPhone via Settings

If the Phone App cannot help you pull up the unlock prompt, you can also try to unlock the SIM card on iPhone by viewing the Settings and turning the SIM PIN on or off. Follow the detailed steps below to find how to achieve it with Settings:

Step 1: Launch Settings app

Open the Settings app on the home screen of your iPhone, which is a gear icon on a grey background.

Step 2: Tap on "SIM PIN"

Scroll down the page and tap on Phone option, and then select "SIM PIN" from the bottom line.

Step 3: Turn SIM PIN On or Off

Here you are allowed to see your SIM PIN is on or offs. To unlock SIM card on iPhone, simply switch it to "On" if it is off, and vice versa.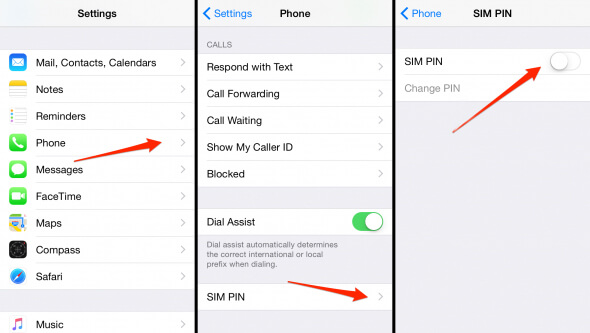 Notes:
Chances are that you may be asked to type in your SIM PIN. If you know it, just follow the prompts to type in. if you haven't set it, enter the default one for your device, which can be found in the service documents or custom service page. However, if you have no idea about SIM PIN, please do not try to guess it. Try to contact with your carrier that gives you the SIM card and unlock it on iPhone.
Part 3

: How to unlock SIM card iPhone with PIN code

Normally the solutions mentioned above can help you fix the SIM card locked issue. In case both these two solution do not work, you can consider unlocking your SIM card with the PIN code. The menu path is similar to the second method, just get in and change or disable the SIM PIN. Now let's start learning more details:

Step 1: Open Settings on iPhone

Tap on Settings app by clicking on its icon, select Phone option to get into phone page, then scroll to the bottom and hit on SIM PIN.

Step 2: Type in SIM PIN

Slide the white "SIM PIN" button to green, and enter the current PIN when it prompted. Call your service carrier to make sure you have correct PIN account.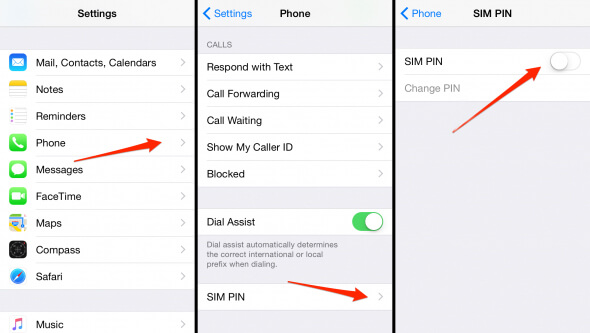 Step 3: Change PIN code
Next tap on "Change PIN" button. You can type in a new four-to-eight-digit PIN code to unlock the SIM card on your iPhone.
Step 4: Verify new PIN code
Confirm the newly created PIN code again. After all is set already, press OK and your SIM card can be unlocked successfully!
you are suggested to switch the toggle to the "Off" position to disable the SIM PIN. Additionally, Password should be used to protect your iOS device for safety and security.
Part 4

: What should I do after unlock SIM card iPhone

Now that you have fix the SIM card locked problem, there are still something you need to notice. Once you have contacted with your carrier that you want to unlock the SIM card on iPhone, Apple can also receive your reaction because your network will communicate this to Apple automatically. Before Apple adds your iPhone to the central database, your device will have been unlocked for about 14 years.

At the end, if you want to check if your iPhone is unlocked already, you can connect it to iTunes to get a message.

Don't Miss: How to unlock an iPhone with broken screen

People Also Read:

How to Transfer SIM Card to New Phone
Conclusion
This post is the ultimate guidance to unlock SIM card on iPhone through 4 different methods. All the four solutions are easy to use and efficient. Besides, you have also something more to understand about SIM card. Now follow the steps above to fix your locked iPhone!
If you have any other query about how to unlock SIM card on iPhone, you can share your thoughts in the comment below!