While you are travelling around the world or going on a business trip overseas, as a T-Mobile iPhone user, the exorbitant fee of your iPhone should be astonished. However, you have no idea to get rid of this dilemma because its carrier has locked your iPhone at the time when you bought it. So how to unlock T-Mobile iPhones or unlock iPhone IMEI? Imagine another situation, you want to sell your T-Mobile iPhone for a second use. What should you do to raise the price of your old iPhone? The answer is to unlock your T-Mobile iPhone. Here comes the same question, is there any solution to unlock T-Mobile iPhones?

Today, we can do everything on our iPhone, from chat with friends to access social media, from watch movies to listen to the latest albums, from track health to go shopping. But you cannot change your carrier or package as you wish. How ironic this is. In fact, most people who purchased an iPhone from carrier providers complained that they cannot get excellent user experiences. Is it possible to IMEI unlock iPhone and change carrier before the contract ends? The answer is simple, yes. All you need to do is to follow our step by step guide below.
Part 1

: Why would you unlock T-Mobile iPhone

There are several reasons that prompt people tto unlock T-Mobile iPhone or unlock iPhone iMEI from the other carriers.

1. Cut down roaming fees. If you unlocked your T-Mobile iPhone, you are free to change cheaper SIM cards from local while travelling or going business trips around world. Generally speaking, the local mobile networks charge much less.

2. Gain additional value for reselling. An iPhone without any restrictions will sell in a higher price in the market, for buyers can use any carrier they like.

3. Burden no risk if unlocking T-Mobile iPhone. Maybe some people consider unlocking T-Mobile iPhones as illegal and unsafe. Actually, it is perfectly safe and legal to unlock T-Mobile or iPhone IMI.
Part 2

: How to get the information for iPhone IMEI

In order to unlock T-Mobile iPhone, you should know the IMEI number to unlock iPhone; you have to do some preparations. First of all, you should get your IMEI code:

1. Open the Phone app from your home screen, go to the dial pane, tap *#06# and make a call, then your IMEI code will show up immediately.

2. Sometimes, you can find the IMEI code on your SIM card tray. Use a needle to push the SIM card tray and take it out, check the front and rear sides to get the IMEI code.

3. For iPhone 6s/6/SE/5/5c, it is easier, just look at the back case of your iPhone, you can find your IMEI code.
We suggest you to grasp a data recovery tool for your iPhone to avoid data loss when performing IMEI unlock. From this point, we recommend Apeaksoft iPhone data recovery since it offers a lot of professional features, like:
1. Get data back from iPhone /iTunes backup/iCloud backup to computer in a single click.
2. Preview all data on your device organized by types and decide to get all of them or certain files.
3. Work on a wider range of data types, like contacts, messages, photos, videos, call history, music, etc.
4. Save iPhone data to computer in original conditions and quality while not replacing existing data on your iPhone.
5. Support iPhone X/8/8 Plus/7/7 Plus/6/6s/5/5c/5s running iOS 12/11/10/9 or earlier.
6. Provide two versions, one for Windows 10/8/8.1/7/XP and the other for Mac OS.
In short, it is the best way to retrieve lost data from iPhone when you discover data missing after IMEI unlock.
Part 3

: How to unlock iPhone SIM card with IMEI code

The methods to do IMEI iCloud unlock on iPhone are different in various situations. You can find various kinds of solutions to unlocking T-Mobile iPhone on the Internet. In this part, we just recommend rather functional and professional unlocking tools – Official IMEI Unlock, to help address your problems.
Situation 1: Unlock iPhone SIM card with IMEI code after contract terminated
Most carrier providers, like AT & T, T- Mobile, Sprint, and Verizon, are willing to unlock iPhone IMEI if you have finished the stipulated contract period. Before you take your iPhone to your carrier and ask them to IMEI unlock iPhone, you should keep the following information in your hand besides IMEI code:
1. Your phone number
2. The type of your subscription
3. Information of your iPhone account
4. Your Social Security Number
5. The email address that you used to register the subscription
6. Your contract
Now, you can contact your carrier provider and they will IMEI unlock your iPhone as soon as possible. Some carriers even offer online IMEI unlock service, like Vodafone and Three.
After unlocking your iPhone, you will not use the related services or apps, e.g. T-Mobile Content Transfer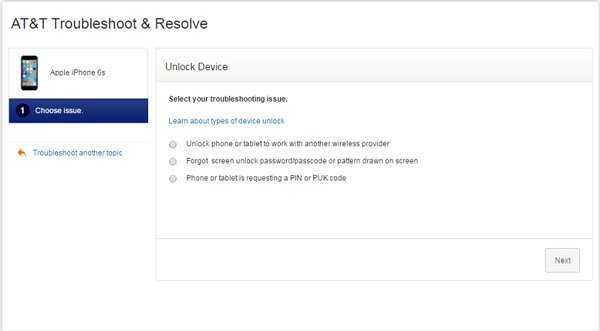 Situation 2: Unlock iPhone SIM card with IMEI code before contract ends
As been mentioned, it is possible to IMEI unlock iPhone even if your contract is not complete. In such cases, you need a third party tool to unlock with IMEI, such as IPhoneIMEI.net and Official iPhone Unlock. The former is available to UK and USA and the latter is the best option for rest regions.
Step 1: Pick up an IMEI unlocker you trust and access the website.
Step 2: Enter your IMEI code into the box and other information necessary, for example, your country and network carrier.
Step 3: Finally, click on "Unlock" button or something similar, and pay the bill. It may takes several hours to days to IMEI unlock iPhone.
Step 4: When it is done, you can put the SIM card from another carrier to check if the third party service is successful.
Situation 3: Unlock T-Mobile iPhone with Official IMEI Unlock
Official IMEI Unlock: Official IMEI Unlock is intended to help iPhone users to unlock their handsets free from networks providers, such as EE, O2, T-Mobile or Orange. You will be given the options of iPhones X and older ones, iPad Mini/Air, which vary widely. What's more, there is no need to send your iPhones to factories. Instead, the whole process of unlocking T-Mobile iPhone can be finished remotely. With easy steps, you are able to get rid of those providers permanently, which is convenient for those who need to unlock their T-Mobile iPhones. According to its reviews, almost all users get their T-Mobile iPhones unlocked quickly and correctly. Follow the step-by-step instruction below and unlock your T-Mobile iPhones right now!
Main features
1. Short timeframe and fast delivery.
2. Promise to unlock your T-Mobile iPhone permanently without re-unlock.
3. Free to telephone for more information at working times.
4. Only IMEI needed to unlock T-Mobile iPhones.
5. Support almost iOS device like iPhone Xc8/7/6s Plus/6s/SE/6 Plus/6/5/5s/5c and more.
Step 1: Select the corresponding model of your iPhone and insert your IMEI number into the blank.
If you are not sure about your IMEI number, just click the blue sentence below the blank – "Click here if you need help finding your IMEI" And there is an instruction of how to get your IMEI number.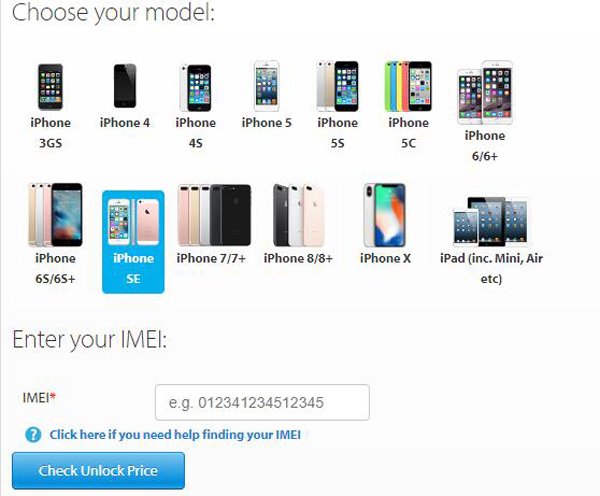 Step 2: Click the blue button "Check Unlock Price". The price and the timeframe of the unlock T-Mobile iPhone service will be shown at the page.
Step 3: If you have no dissent, just fill in your email address and payment information to gain more details.
Step 4: Then Official iPhone Unlock will whitelist your iPhone and you will receive an email telling you the next steps.
Step 5: Generally, you just need to connect your iPhone to computer with your iTunes launched. Then the iTunes will tell you that your T-Mobile iPhone has been unlocked.
There is another situation that if your iPhone has connected to a Wi-Fi network, or you own a T-Mobile service on your iPhone, the message of unlocking will be shown automatically on your iPhone.
To give a wider option, we make a chart providing several kinds of tools aiming at unlocking T-Mobile iPhones. You are expected to compare the price and approximate timeframe between these tools.
| Name | Price | Timeframe |
| --- | --- | --- |
| Official iPhoneUnlock | £19.99 | 24-72 hours |
| IPhoneIMEI.net | $28.00 | A few days |
| IMEI Phone unlock | £19.99 | 24-48 hours |
| MyimeiUnlock | $35.00 - $169.00 | 15-18 working days |
All of these tools can unlock T-Mobile iPhones only by knowing your IMEI number. So, you are able to finish the whole process by several similar steps. You can refer to steps below.
Step 1: Enter the official website of these unlocking T-Mobile iPhone tools.
Step 2: Choose you iPhone model and tap your IMEI number into the blank. Sometimes you are asked to choose your carrier – T-Mobile.
Step 3: Then there will be an order showing in the page, noting the timeframe and price of the whole service.
Step 4: If you accept the price and the timeframe, just insert your personal email and credit card information (or other payments).
Step 5: Wait for some time you will receive an email writing simple and easy instructions of what you should do next to unlock your T-Mobile iPhone.
Part 4

: More information about iMei unlock

Carriers stop users from IMEI unlocking iPhone partly because profits, their money-hungry policies. Finding the right way to unlock your device can be a minefield. So, we will share some knowledge you need to know about IMEI unlock.

1. How carrier lock works? Generally speaking, it is your manufacturer that adds custom firmware related to carrier restrictions into your iPhone. The firmware could create various locks by network providers, like country lock, network lock, and subscriber lock. This keeps you stuck in a contract for a defined period of time.

2. The common ways to unlock iPhone. There are three kinds of methods to unlock an iPhone, software unlock, hardware unlock, and IMEI unlock. Today, software unlocking is outdated and Apple developed advanced firmware to prevent any software from working. Hardware unlocking is apparently not a good choice, especially for non-tech savvy. It is the riskiest option and may involve physical damages to your device. So, unlocking iPhone with IMEI is the only secure way to unlock your iPhone.

3. Carriers encourage people to do IMEI unlock after the contract ends, but unlocking your iPhone during a contract is not illegal. To be honest, carriers make it difficult to remove the restrictions since there is no law stopping you. And the popular third party services are increasingly safe and cost effective now.

4. The only issue is to find a proper way to unlock your iPhone with IMEI code according to your situations. And make sure you offer the right information of your device.
Conclusion
In this post, we have discussed how to perform IMEI unlock iPhone. To get new customers, carriers launch a lot of attractive package. But for locked iPhone users, enjoying such services is only a dream. Carriers and Apple locked the iPhone and prevent users from changing network providers. Even though the contract ends, you cannot switch carrier without unlocking. With our guides, you can do IMEI unlock and use any carrier as you wish.