"I am using a Samsung Galaxy Note 6, and I discover that a folder called LOST.DIR automatically appears after every reboot, what is it?"
Some Android phone users may have heard of LOST.DIR or even have used it. But most people are not familiar with it. Briefly, it is a system folder to help you recover data on Android phone.
Considering that many people do not understand this feature, we are going to tell you the basic knowledge about LOST DIR folder on Android devices in this post. Spending a few minutes, you can learn all you need to know this feature.

Part 1

. What is LOST.DIR

First of all, what is LOST.DIR? As mentioned, LOST.DIR Android is a system feature to help Android users recover files when system boot up. It is much like the Recycle Bin of Windows operating system. Most of the times, you cannot find anything in at all. But when you are saving or moving files and your phone suddenly power off or forced pull of the SD card, Android will put the copies of these files in LOST.DIR folder. So, the files can be recovered on the next boot.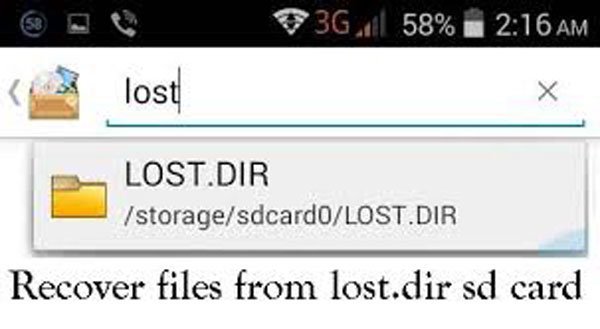 Part 2

. What files are stored in LOST.DIR

Bear in mind that the copies are renamed in LOST.DIR folder. Even if you find some files with weird name in this folder, do not be surprised since they are just backup versions.

In the situations below, your files may go to :

1. Pull off the SD card from your Android phone , especially when transferring data.

2. Download photos, videos and other documents on Android phone, but the process is disrupted suddenly.

3. Your Android phone is freezing and not responding suddenly, while you are doing something on it, such as taking photos.

4. The Android phone powers off while some read-write process is on.
Part 3

. How To Recover Files From LOST.DIR

To avoid file loss permanently from on SD card of your Android phone, you'd better quickly recover them before the space is overwritten by new data. Therefore, we recommend you to try a professional LOST.DIR recovery tool, such as Apeaksoft Data Recovery. Its key features include:
Easy to use. This LOST.DIR recovery tool is able to get back lost files from your Android device in one click, so even beginners could grasp it in a few seconds.
LOST.DIR recovery in various situations. No matter your files are lost due to mistake operation, system freezing or crash, virus attack, sudden interruptions or format, it could recover them easily.
Support a variety of data types and formats. It works for all , video, audio, document, email and other file formats, like JPG, ICO, PNG, BMP, GIF, PSD, TIFF, RAW, MP4, MP3, WAV, AVI, DOC, ZIP, etc.
Lossless recovery. With the best LOST.DIR recovery application, you can restore lost files in original quality and format.
Selectively recovery. After scanning, you can look at all lost files organized by categories and formats and decide to recover all of them or certain files.
Quicker and lighter. This LOST.DIR recovery tool is lightweight and could restore lost files quickly and safely.
Moreover, Data Recovery is available to 10/8.1/8/Vista/XP and the file systems, like NTFS, FAT16, FAT32, exFAT, EXT, etc.
Download for
for Mac
In short, it is the best option when you want to recover files from LOST.DIR folder.
How to recover files from LOST.DIR folder
Step 1: Scan entire SD card to look for lost files
Download and install the latest version of Data Recovery on your PC, as well as connect the external SD card your Android phone to the computer.
Once launch the best LOST.DIR recovery software, you will see two parts on the home window, data type and . Firstly, navigate to the data type part and tick the checkboxes on desired data types, such as "Image", "Audio", "Video" and more. Then head to the location part and select your SD card in "Removable Devices" section. Click on the "Scan" button to trigger the LOST.DIR recovery process.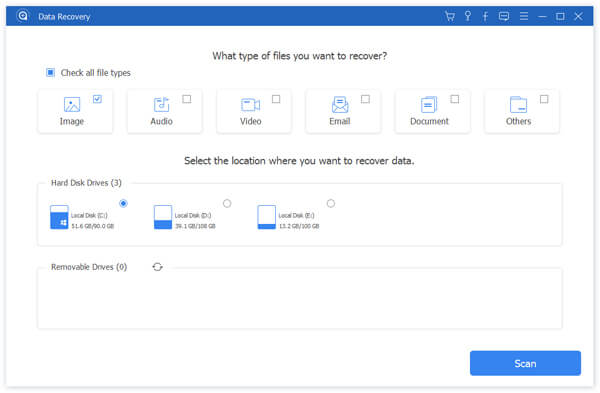 Step 2: Preview files before LOST.DIR recovery
When going into the result window after standard scanning, you can look at recoverable files arranging by types and formats. For instance, go to the Audio tab from left side bar, several folders titled audio formats will show up on , like MP3, WAV, WMA and more. Then you can go to each folder and preview your files. If you want to quickly locate certain file, enter the key word into the box on top of the window and click on the "Filter" button. Get nothing related to the file that you want to get back? The Deep Scan feature at upper right corner will check the SD card deeply and recover more data.
Moreover, it also lets you get back the deleted orphaned files on computer easily.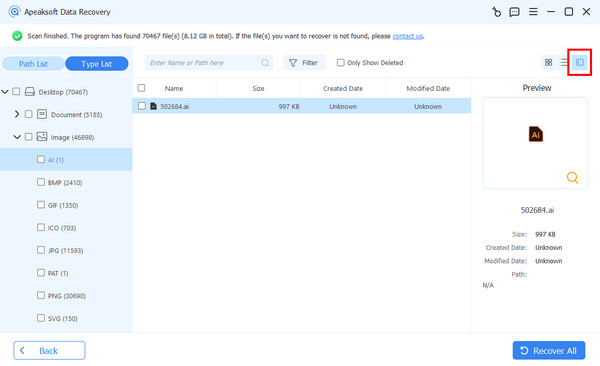 Step 3: Make LOST.DIR recovery in one click
If you are ready, select all desired files by ticking the corresponding boxes or you can choose the whole folders. The best LOST.DIR recovery tool will retrieve lost files from LOST.DIR folder to another location as soon as you click on the "Recover" button. Finally, press the "Open Folder" button on the Recovery Finished window to open the destination folder. Now, you can access your files and transfer them to Android phone as usual.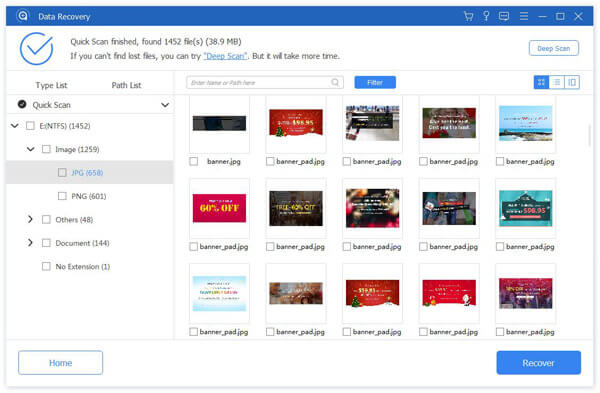 Don't Miss: How to recover overwritten files on Windows PC/Mac
Part 4. FAQs of LOST.DIR File
1. Is it safe to delete LOST.DIR?
The LOST.DIR folder stores the temporary files for your Android phone, and it plays an important role in recovering the lost data on . If you are sure the there are no important files in the folder, it is safe to delete LOST.DIR to free up more space.
2. How to prevent Android from creating Android and Lost.DIR?
The creation of LOST.DIR is coming when your phone gets stuck in sudden crash or corruption. For preventing LOST.DIR from being created, you just need to prevent the SD card from being corrupted, just like eject safely, never remove while files are being modified on your phone, etc.
3. How to remove LOST.DIR virus?
Firstly, let's make it clear that LOST.DIR is not a virus, but the folder created by Android system to collect lost files. You can remove LOST.DIR folder by deleting the folder, but it will appear gain the next time the system boots up.
4. What happens if we delete the LOST.DIR folder from an SD card?
It will free up more space for your Android phone after you delete the LOST.DIR folder, but the data stored in the LOST.DIR folder will go forever, even if you use the data recovery software. After you delete the LOST.DIR folder, it will create a new LOST.DIR folder on your phone to store the new data.
Conclusion
Based on the introductions above, you might understand what is lost dir. It is the replacement of Recycle Bin for Android devices. But it is not used to store manually deleted data, but save the lost data in sudden interruptions. In other words, LOST.DIR Android gives you the hope that gets back lost data when Android freezing, power off, crash, etc.
In order to help you recover files from LOST.DIR folder, we also shared a professional LOST.DIR recovery application, Apeaksoft Data Recovery. It supports a wider range of data types and formats. Plus, this digital data recovery tool simplifies the process of LOST.DIR recovery. Now, you can stop worry about data loss and feel free to use your Android phone. If you have more issues about LOST.DIR, please leave a message below this post.