For different reasons, you may finally choose to buy a refurbished iPhone. It is quite a cost-efficient choice. Refurbished iPhone is much cheaper than a brand new one and usually features good performances and capabilities.
However, many people have purchased a locked iPhone. So, you should be careful when you want to buy a refurbished iPhone. Now we come to the question, do you know how to unlock a refurbished iPhone?

Refurbished iPhone Unlocked
If you get a locked refurbished iPhone, either with a SIM lock or screen lock, you are at the right place. Here in this post, we will tell you how to unlock your refurbished iPhone in details.
Part 1. Best Way to Unlock a Refurbished iPhone
After you buy a refurbished iPhone that is locked by a screen password, or just disabled, it's quite necessary to remove the lock. Here we strongly recommend the powerful refurbished iPhone unlock software, iOS Unlocker for you to unlock your iPhone. It has the capability to wipe any screen lock, Apple ID password, Screen Time passcode and more.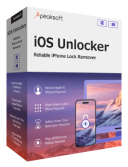 4,000,000+ Downloads
One-click way to remove a refurbished iPhone lock.
Unlock screen lock, Face ID, Touch ID, digital password on iPhone/iPad/iPod.
Bypass Apple ID, iCloud, Screen Time or Restrictions password without data loss.
Step 1 To unlock your refurbished iPhone, you need to free download, install and run this iOS Unlocker on your computer. It offers both Windows and Mac versions for you to choose from. You can double click on the download button above to install it with ease.
Step 2 If your refurbished iPhone is locked by screen lock, here you can select the Wipe Passcode feature. It also enables you to remove Apple ID and Screen Time passcode. You can pick the specific feature based on your need.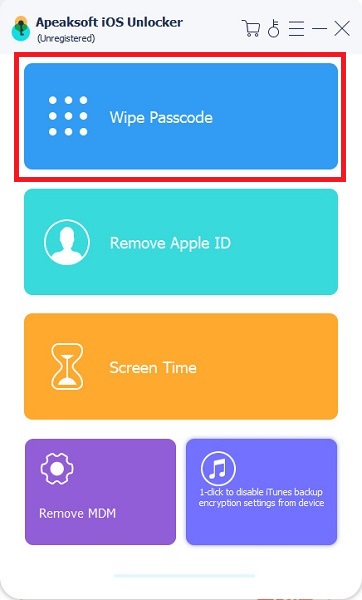 Step 3 Connect your refurbished iPhone to the computer with a lightning USB cable. Click the Start button to move to the next step.
Step 4 You can see some basic information of this iOS device showing in the interface. You can check and confirm them. After that, you can click the Start button to start unlocking refurbished iPhone.
Step 5 To unlock a refurbished iPhone, you need to download a firmware package. Just follow the instructions to download it. It may take some minutes to complete the whole downloading process.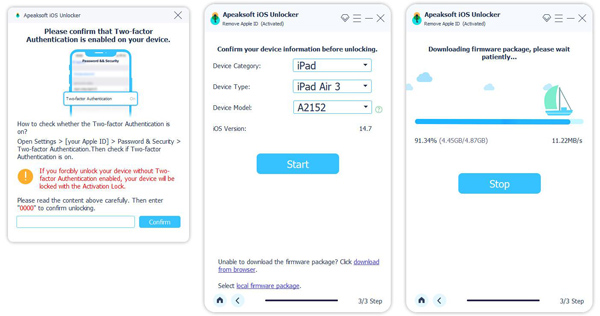 Step 6 Click the Unlock button to unlock your refurbished iPhone. Then enter 0000 as required to confirm the unlocking operation.
With iOS Unlocker, you can handily remove the screen lock on your refurbished iPhone. You can also rely on it to remove Restrictions passcode, unlock a disabled iPhone, wipe the forgotten Apple ID, and more.
Part 2. How to Unlock a Refurbished iPhone Locked by Carrier
If you get a refurbished iPhone that is locked by the carrier, you can't simply remove the carrier lock with the method above. You may have to contact the carrier and request unlocking. You need to pay a fee to unlock your refurbished iPhone.
Step 1 When you want to unlock a refurbished iPhone that locked by carrier, you should check if this carrier has an unlocking service. If it offers the unlocking service, you can follow the steps below to remove the carrier lock.
Step 2 On your iPhone, go to the Settings app. Choose the General tab and then tap About option. Here you can find your IMEI number of this iOS device. You will need the IMEI number, so write them down.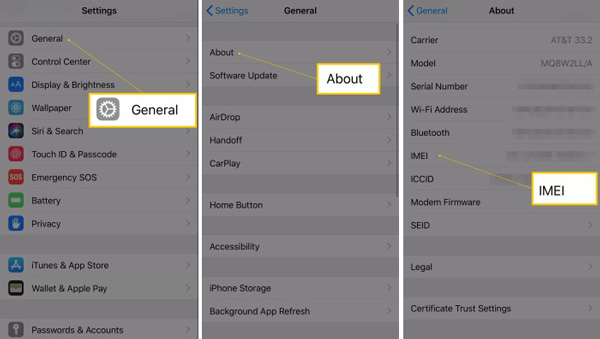 Step 3 Now it's time to contact the carrier. You need to offer your IMEI number for unlocking your refurbished iPhone. It will take some days to remove the lock.
For more solutions to unlock the SIM card locked iPhone, you can refer to this post.
Part 3. FAQs of Refurbished iPhone Unlocked
Question 1. What is a refurbished iPhone?
Refurbished iPhone is a repacked phone made available for sale by Apple. The refurbished iPhones are usually returned or exchanged phones. There refurbished phones will be repaired by Apple technician and certified as fully functional. So after you purchase a refurbished iPhone from Apple, you can use it as a brand new one.
Question 2. Where can I buy a refurbished iPhone?
When you decide to purchase a refurbished iPhone, you should first choose to buy one from Apple. You can get a 12-month warranty and Apple support in case it run into any problems. Also, you can buy a refurbished iPhone from some big stores like Walmart and Best Buy. Relatively speaking, they can offer deeper discounts than the manufacturer.
Question 3. How to back up an iPhone if the screen doesn't work?
If your iPhone screen is broken or unresponsive, you can rely on some professional iPhone data backup tool like iOS Data Backup & Restore to copy all important iOS data from your iOS device to computer.
Question 4. Does refurbished mean second-hand?
You should tell the difference between the used goods and refurbished goods. The refurbished goods mean reconditioned or re-manufactured goods. They are usually bought by a person and then returned for some reason. Used goods refer to second-hand or pre-owned goods. They are used and sold by the previous owner.
Conclusion
We have mainly talked about the refurbished iPhone unlocked in this post. We tell you 2 ways to unlock a refurbished iPhone. Hope you can learn more information about the refurbished iPhone after reading this post. If you still have any questions, you can leave us a message in the comment.