All your Apple products can be tightly connected with each other. If you have an iPhone with iOS 14.5 or later, and an Apple Watch runs watchOS 7.4 or later, you can use your iPhone to unlock the Watch. This post tells you how to unlock Apple Watch with iPhone.

Unlock Apple Watch With iPhone
Part 1. Common Way to Unlock an Apple Watch Manually
Similar to other Apple products like Mac, iPhone, and iPad, there is a PIN code on the initial setup to secure Apple Watch. That can help protect your watch's data and prevent others from using Apple Pay. Moreover, through a passcode, Apple Watch can know each time you have taken it off your wrist. Apple allows you to enter the passcode to unlock your Apple Watch manually or set it to be unlocked automatically when you unlock your iPhone.
You should know that, until now, all Apple Watches, including the new Apple Watch Ultra, Apple Watch Series 8, Apple Watch SE, etc., do not support Face ID or Touch ID. So when you want to unlock an Apple Watch, you must manually input the PIN or password on its small number pad.
Part 2. How to Unlock an Apple Watch Using iPhone
As mentioned above, Apple allows you to unlock your Apple Watch from an iPhone. There are some requirements for unlocking an Apple Watch using an iPhone. You should use an Apple Watch with watchOS 7.4 or a later version. Also, you need to enable Bluetooth and Wi-Fi on both Apple products. To unlock an Apple Watch with your iPhone, you should put them within a normal Bluetooth range, like 10 meters.
Use an iPhone to unlock your Apple Watch
Step 1 Wear your Apple Watch, unlock it, and go to the Settings app. You can scroll down to the bottom part to choose the Passcode option. Here you can enable the Unlock with iPhone feature by sliding the switch to the On position. During this step, you should also turn on Wrist Detection.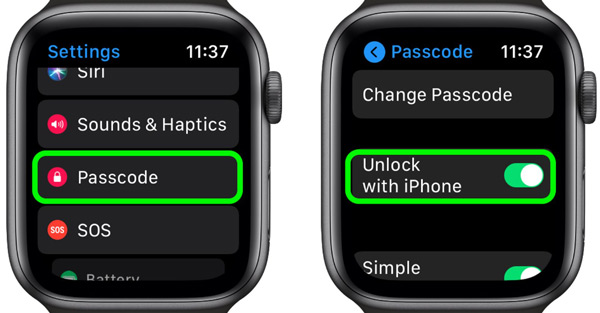 Note that if you are the first time using the Watch app on your iPhone, please tap the Start Pairing using Camera button and follow the instructions to pair your Apple Watch with your iPhone.
Step 2Open Watch on your iPhone, and scroll down to tap the Passcode section. Find the Unlock with iPhone option and enable it. You need to enter the passcode for your Apple Watch to confirm that.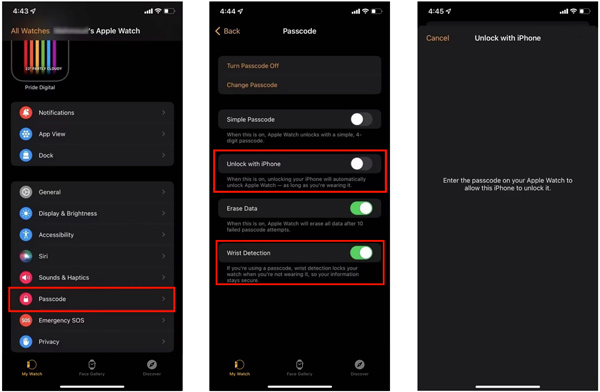 After all these settings, you can pick up your iPhone and unlock it with Face ID, Touch ID, or passcode to unlock your Apple Watch easily. You will see a banner with a lock button on your iPhone screen when the Apple Watch is unlocked. You can also tap the lock button to cancel the operation. You also can unlock your iPhone using Apple Watch.
Use iOS Unlocker to unlock an iPhone without a password
If you have forgotten the current lock screen passcode for your iPhone, you can use the professional iOS Unlocker to quickly wipe the password. Besides, it can help you remove Face ID and Touch ID from your iOS device.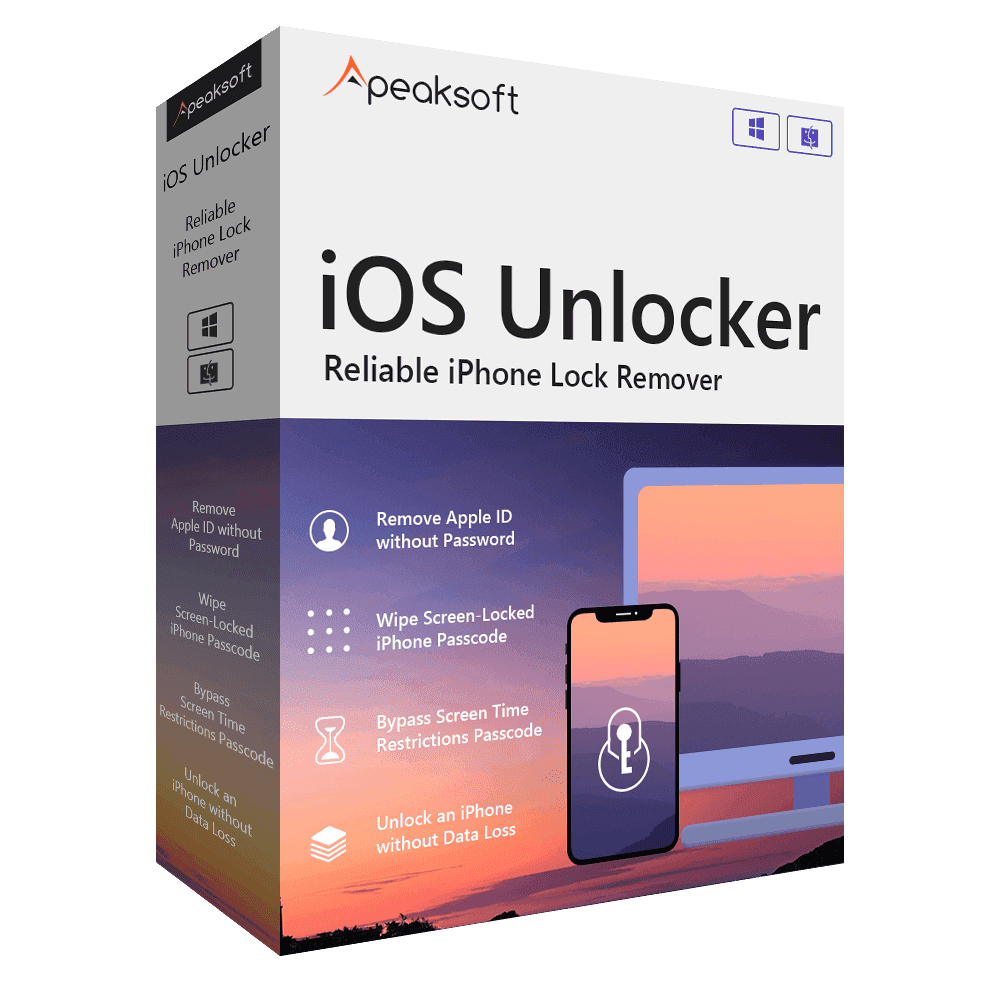 4,000,000+ Downloads
Unlock an iPhone or iPad without Face ID, Touch ID, or passcode.
Remove Face ID, Touch ID, and digital password from iPhone/iPad/iPod.
Bypass the Screen Time or Restrictions password on an iPhone safely.
Support all iPhone and iPad models and iOS versions.
You can free download iOS Unlocker on your computer, launch it, choose its Wipe Passcode feature, and then follow the instructions to remove your forgotten lock screen password. After you access your iPhone, you can set a new passcode, pair it with your Apple Watch, and then use it to unlock your watch easily.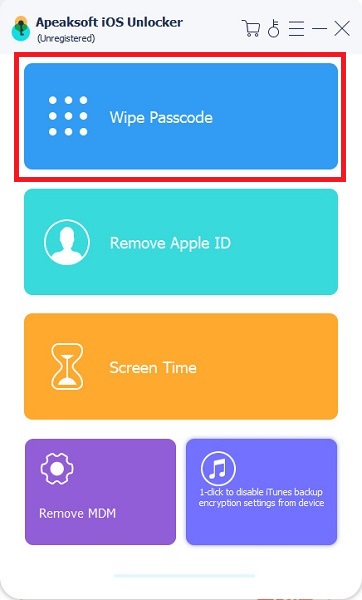 Part 3. FAQs of How to Unlock Apple Watch with iPhone
Question 1. How to change your passcode for Apple Watch?
Wear your Apple Watch and unlock it. Scroll down to enter the Settings app. Tap Passcode and then go to the Change Passcode option to change your passcode.
Question 2. Can I set no password for my Apple Watch?
Yes. Apple Watch allows you to turn off the passcode. Please enter the Settings app on your Apple Watch, choose Passcode, and then tap Turn Passcode Off.
Question 3. What to do when you forget the Apple Watch passcode?
If you forget your Apple Watch passcode, you must erase it. You can unpair your Apple Watch from an iPhone and reset it. Please run Watch on your iPhone, tap My Watch on the bottom screen, choose General, and then use the Reset feature to erase your Apple Watch content and settings.
Conclusion
After reading this post, you can learn how to unlock your Apple Watch with iPhone. For more questions about Apple Watch unlocking, you can message us in the comment section below.