It is not rare that you forget the password of your iPad, and you are able to enter the possible passcode for six times. However, if you type the wrong password hour after hour, the iPad will be locked and you will be prompted with a message saying your device is disabled. It should be quite a depressing problem, and what you can only do is to try to bypass the passcode on your disabled iPad.

Please do not get worried even if you do not know the detail steps. This passage is going to help you solve such an issue through 2 different but efficient ways. Here you are able to learn not only how to bypass the iPad password without restoring, but also the best way to backup your important data in the disabled iPad.
Part 1

. How to bypass iPad passcode by wiping the passcode

Appel offers no ways or recovering the password from iPad, even if you can prove you are the owner of your iPad. All the ways to bypass iPad password is restoring iPad to factory settings to wipe the forgotten password.

The first way is the easiest one to remove the existing passcode on iPad via Apeaksoft iOS Unlocker.

Apeaksoft iOS Unlocker is the professional iPad password bypass software, which can rescue your iPad from the locks of Face ID, 6-digit, or customed alphanumeric code. Though is the professional software, it is easy to use to bypass your iPad passcode in 4 steps.

Recommendation
Bypass iPad passcodes like Face ID, Touch ID, 4-digit, 6-digit, customized number and alphanumeric code.
Bypass Apple ID login by removing it when you forgot the Apple ID password.
Recover and bypass Screen Time restriction password on iPad easily.
Compatible with almost all iPad models like iPad Pro 6/5/4, iPad mini 6/5/4, iPad Air 5/4/3, etc.
Step 1: Connect iPad to computer with the USB cable
Free download iOS Unlocker into your computer. This program supports Windows and Mac computer, and you can download which version you need exactly.
Run it and choose Wipe Passcode mode. Plug your iPad to computer via the USB cable. Click the Start button in this software to continue.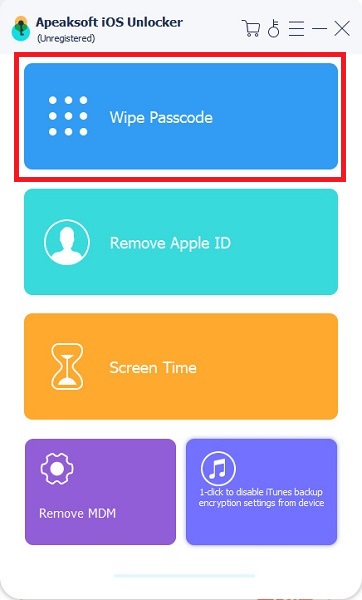 Step 2: Confirm iPad information
Once connected successfully, all the information of your iPad will be detected automatically. Confirm or modify it once the information is not correct. After that, click the Start button to continue.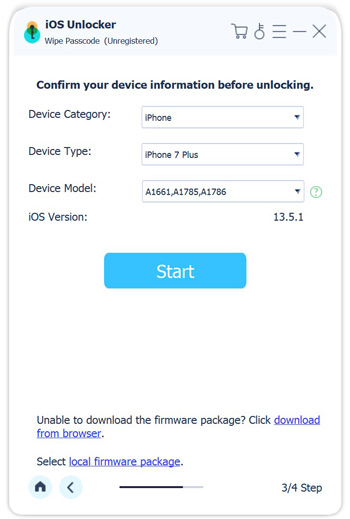 Step 3: Download iOS firmware
Then this program will start downloading the iOS firmware from Apple server. In this process, make sure your computer is connected with the Internet.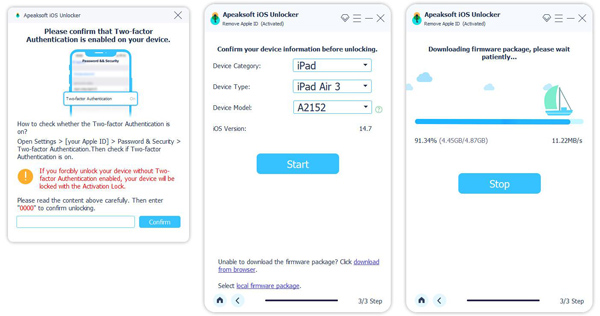 Step 4: Bypass iPad passcode
After the firmware downloading is complete, click the Unlock button and input 0000. Then click Unlock button again to confirm the unlocking process.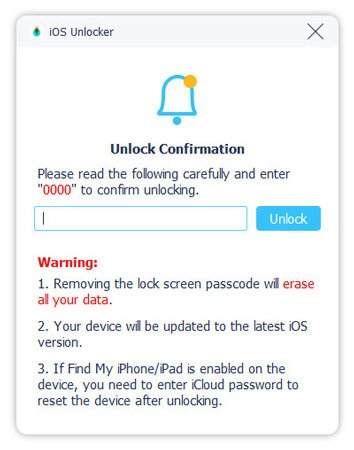 After that, your iPad will restart and you could set a new passcode for iPad to use it easily.
Part 2

. How to reset iPad passcode without restoring via iTunes

Once you decide to use iTunes to bypass iPad passcode without restoring, you should be prepared that your data and files in the disabled iPad may be lost. No matter it's iTunes or other unlocking tools, the contents on your iPad would be lost when cracking the iPad password.

And here are the general steps about how to bypass iPad password without restoring through iTunes:

Step 1: Launch iTunes app

Start iTunes app by double clicking its icon, then plug your disabled iPad to the computer via a USB cable.

Step 2: Sync iPad to iTunes

iTunes will detect your locked iPad. When you see the device is listed on the upper right of the window, wait for your iPad to sync to iTunes.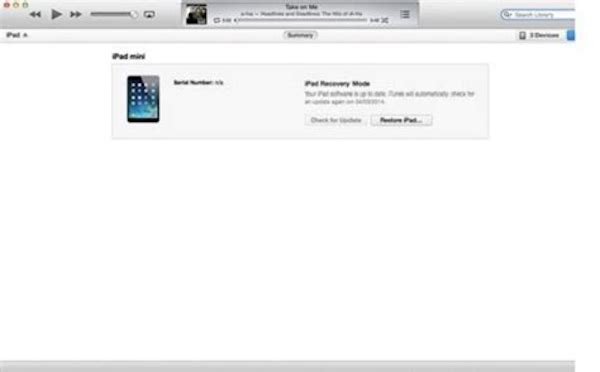 Step 3: Create a backup
Tap on "Back up now" button to make an up-to-date backup for your disabled iPad, which is to prevent your important contents from lost after bypassing iPad password.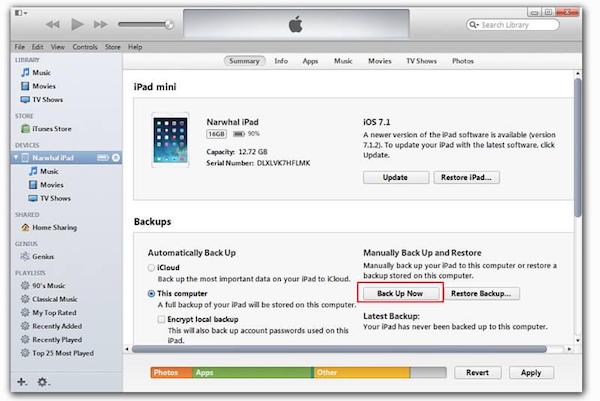 Step 4: Reset your disabled iPad
Click on "Restore iPad" on the top of iTunes page and confirm. Then iTunes will wipe out your disabled iPad and reinstall iOS. This whole process may take a few minutes.
Now you have managed to bypass iPad passcode without restoring. You are able to set up a new password for this unlocked iPad.
In this way, you are able to remove restriction password, and reset it successfully.
Part 3

. How to bypass iPad passcode without restoring with Siri

Besides using iTunes to bypass iPad password without restoring, a newly discovered iOS security hole also enables you to unlock your disabled iPad in iOS 10.1 down to iOS 8.0. All you need is a locked iPad, and your dear friend, Siri. Now learn to access to your important data on this disabled iPad with Siri:

Step 1: Send an iMessage

Use another iOS device to send an iMessage to your locked iPad. As soon as the incoming iMessage shows up on the screen, tap on "Message" button, and then click "Custom…" in the menu.

Step 2: Activate Siri

Then activate Siri on your iPad and ask it to turn on VoiceOver. After that, press on the Home button to go back to the Massage.

Step 3: Tap on the address filed

Now double click on the address field. And keep one finger on the address filed while tap on the keyboard quickly with another finger. If correctly, there will be a frame and icons sliding over.

It may takes you quite a lot times to activate. So just keep tapping and do not give up. Once successful, ask Siri to turn off VoiceOver and come back to Message.

Step 4: Activate your locked iPad

Tap any letter on the keyboard, and now you will find all the contacts listing on the screen. You are able to access the contacts' detail info by tapping on the info icon, as well as photos, messages and contacts data, etc.

Step 5: Check more photos

You have bypassed passcode without restoring on your disable iPad! To see more data and files on your iPad, simply click on "Create new contact" and then "Add Photo", which will take you to the Photo app.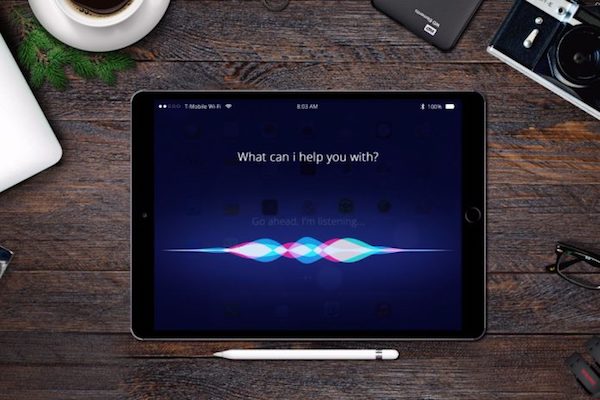 Part 4

. How to backup data for iPad with iOS Data Backup & Restore

Though you can bypass iPad passcode without restoring through a multiple solutions, chances are that some important data in your disabled iPad will never be retrieved. So it is of great importance for you to make an up-to-date backup in time.

Though iCloud and iTunes can help you back up data, to make everything is alright, you are suggested to use a professional data backup program. And Apeaksoft iOS Data Backup & Recovery should be a good choice for you. With it, you can backup and recover all you data on iPhone, iPad, and iPod Touch, such as photos, videos, messages and contacts, etc.

Here is a detailed guide about how to back up your iPad before bypassing iPad password without restoring:

Step 1: Download iOS Data Backup & Restore

Download and install Apeaksoft iOS Data Backup & Recovery on your computer. This software is available for both Mac and Windows. Then launch this app, and click the button of "iOS Data Backup".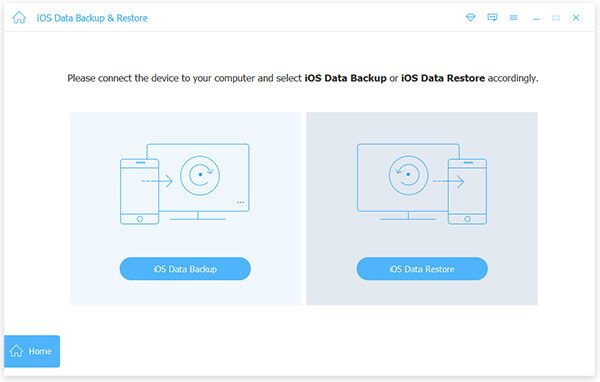 Step 2: Connect your iPad to PC
Plug your iPad to the computer via a USB cable. Once connected, iOS Data Backup & Recovery will detect your device automatically, and all your contents will be scanned.
Step 3: Choose "Standard backup"
Click the "Standard backup" option to back up data and files on your iPad. The "Standard backup" option enables you to back up contacts, messages, call history, photos, notes and so on based on your need.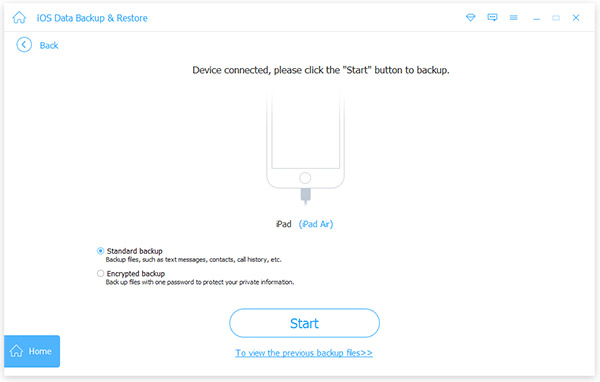 Step 4: Back up your data
Next set a path to save the backup. Finally, as soon as you click the OK button, iOS Data Backup & Recovery will backup the selected data from your iPad immediately.
Now you do not have to worry that your vital files lost after bypassing password without restoring on your disabled iPad!