iPhone Eraser: How To Erase iPhone Data and Settings
Want to erase all data and settings on your iPhone iPad or iPod and make the device new as before? Apeaksoft iPhoone Eraser can help you. Firstly, download and install iPhone Eraser on your Windows PC.
Kindly remind you, iPhone Eraser will wipe out all iOS devices content and settings. You'd better back up your important data before you do that.
Step 1. Connect iDevice(s) and run iPhone Eraser
Connect your iPhone iPad or iPod to computer with a USB cable, meanwhile run iPhone Eraser. Wait seconds until the computer detects the device. Here you are allowed to connect several iOS devices with computer simultaneously.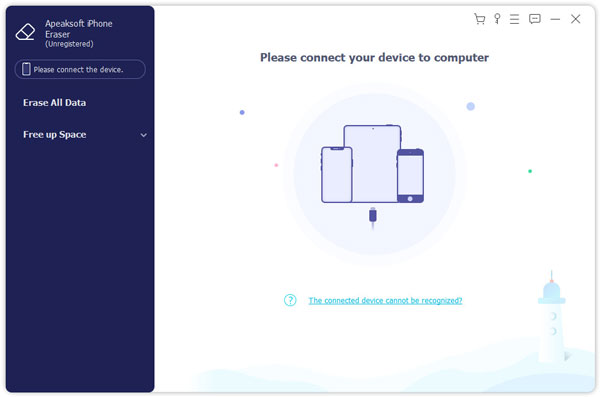 Device cannot be detected while connected?
• Reconnect your iOS device to the computer with another USB cable.
• Make sure that your iOS device is not in Recovery or DFU mode.
• Check whether iTunes installed on your computer has been updated to the latest version. If not, check for updates or go to Apple official site to download the latest version of iTunes.
• If the answer above can not solve your question, please contact our support team: support@apeaksoft.com
Step 2. Choose erasing level
Choose the level that you want to apply to erase data. There are three levels, low, medium, and high level for overwriting different times to erase your content and settings as you want.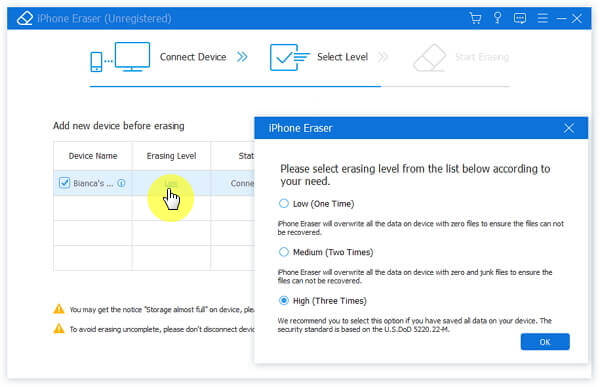 Three Erasing Levels
• Low level: overwrite all data on device with zero files to ensure the files cannot be recovered.
• Medium level: overwrite all data on device with zero and junk files to ensure the files cannot be recovered.
• High level: We recommend you to select this option if you have backed up all data on your device. This security standard is based on the U.S.DoD 5220.22-M.
Tips:
1. Here Low level is default setting. If you want to change this setting, you can click Menu on the right top of iPhone Eraser's interface. Then click Preference – Select Erasing Level. You can choose erasing level according to your own needs. And click OK to save this default setting change.
2. Also you can make general settings for your preference. You can set local path and format for saving exported erasing history, CSV and PDF. Moreover, you can make update settings automatically.
Step 3. Start to erase content and settings
After choosing erasing level, you can click Start button to erase your iPhone, iPad or iPod data. Till now, you have completed the whole process of erasing everything on your iOS devices.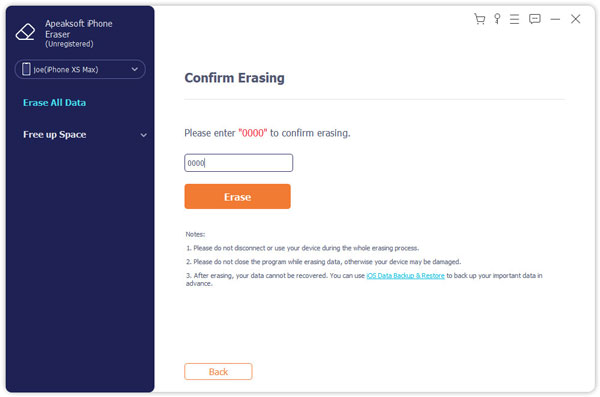 How to Register iPhone Eraser
Click "Register" on the upper right corner of the main interface to open the registration window, type in the email address and registration code and click "OK" to complete the registration of Apeaksoft iPhone Eraser.
The email address is the email that you use to purchase this software.